Meeting to You Corp. Launches Indiegogo Campaign for VOVIE, 1st PC Software Private Network for Secure Live HD Stereo Chats Over Low Band Connections
MTY founders Norm Towson and Ted Rybicki announce, "VOVIE brings every user the military grade security of scrambled private network channels across the cloud while empowering: Personal stereo voice calls, HD video chats up to 1080p, live stereo music share & texting over low cost global connections for the first time." VOVIE, patents pending was designed by the Meeting to You Team, after decades building secure real time infrastructure computing equipment & software.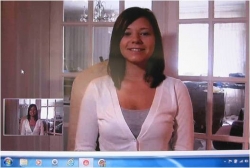 Dayton, CA, September 26, 2013 --(
PR.com
)-- VOVIE's software solution addresses the personal, business, US financial security rule and medical (HIPPA), marketplace requirements for secure encrypted voice, video, media & text communication over public internet connections. The VOVIE; Soft Power Net Product, is architected to bring video and voice conferencing seamlessly on earth scale to all levels of data connectivity - Dial-up, "2G 3G 4G Radio Satellite for mobile devices", residential wired Broadband (ADSL, DSL and Cable) and corporate level Broadband (T1 through OC3) connections.
VOVIE enables secure high resolution collaboration for people everywhere to enjoy:
Military Grade Private Secure Communications with No Intermediate Computers or Outside Access of any kind to connect and host the calls. This means in addition to the AES Encryption options of 64-bit, 128-bit, 256-bit and 512-bit Keys and Auto Burn Message/Wipe Clean/No Copy options, no one can access your calls, even MTY. VOVIE is designed to stop spies including the types mentioned in the New Yorker article URL below on Edward Snowden, NSA.
VOVIE Boosts your PC's resolution for two way communications by up to 10X during HD Video Chat while supporting 48 kHz 16 bit full band stereo voice calls & live music share over low cost lines. A secure text box to 1400 characters, safe encrypted message recording & other options are available.
VOVIE is a higher resolution ultra low bandwidth connectivity software solution where connectivity failures, broken voice, broken video, disconnects and waiting are largely removed. VOVIE automatically sets up your own personal www communications channels & drives safe reliable interactive HD connectivity of people, news media, business, medical, educational personnel, anywhere in the world over the top of all connections.
Status: VOVIE plug and play software replaces the existing NSA, DOD protocols now used world-wide by other companies. The VOVIE network is in advanced beta release, operational on Microsoft Windows XP, Vista; Win7 & Win 8 based x86 PC devices that have a standard internet connection.
The Indiegogo campaign at vovie.com, was launched on September 20, 2013 and runs through October 19, 2013.
Norm Towson, CEO
Meeting to You Corporation
(408) 309-4432, (513) 340-6618
ceo@meetingtoyou.com
www.meetingtoyou.com
www.vovie.com
http://bit.ly/1eyL3Oa
New Yorker Ref:
http://www.newyorker.com/online/blogs/johncassidy/2013/06/why-edward-snowden-is-a-hero.html
Contact
Meeting to You Corporation
Norman Towson
513-340-6618
meetingtoyou.com
vovie.com

Contact