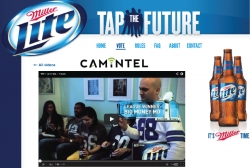 New York, NY, October 09, 2013 --(
PR.com
)--
CAMINTEL
, a digital and mobile marketing technology company, has received an extremely positive response to its entry in the Miller Lite 'Tap The Future' competition. CAMINTEL's business plan highlighted the potential of the company's proprietary Touch2Like™ Mobile Marketing Cloud platform, which uniquely enables brands and advertisers to take consumer convenience to new heights by using proximity awareness technology such as Near Field Communication (NFC) and Bluetooth.
The
Miller Lite 'Tap The Future'
competition, fronted by Shark Tank anchor Daymond John, takes its place among a growing number of TV shows and media events which invite teams of entrepreneurs to pitch their ideas competitively in pursuit of a prize. The 'Tap The Future' prize is a cash award of $250k – but there's also an opportunity to make useful contacts among the competition's panel of judges, which includes the founders of innovative clothing label Black & Denim, Hispanic media entrepreneur Lance Rios, and cutting-edge shoe designers BucketFeet.
When CAMINTEL CEO Camilo Sandoval heard about the competition, he jumped at the chance to put his outfit forward. "It's a natural for us," commented Sandoval. "Firstly, we're a young company that has come out of nowhere with a genuinely innovative way for brands to connect with customers. And secondly, CAMINTEL's DNA includes a strongly Hispanic element, as evidenced by our recent involvement with
Post Foods
and the Venezuelan duo Chino y Nacho."
CAMINTEL aims to become a player in the emerging field of Mobile Engagement Marketing, which extends the reach of traditional marketing via smartphone, web and so-called smart media. Engagement Marketing relies on novel customer interactions that can range from targeted offers and point-of-sale transactions to social media tie-ins, providing shoppers with instant gratification and convenience. The ultimate vision is a form of shopping nirvana, where consumers can buy and engage with brands on the spot — straight from an attention-grabbing ad, or off a digital display screen, or even from clothing. In order to deliver these capabilities, Touch2Like, CAMINTEL's secure flagship product, relies on the NFC (Near Field Communications) and Bluetooth features that are integral to an increasing number of smartphones, but CAMINTEL's integrated line-up also supports QR coding and a number of other technologies.
You can reserve seats and watch the semi-finalist pitch their business plans on Wednesday, October 30 at Dallas City Performance Hall. You can also participate by voting for CAMINTEL's video pitch
here
.
Parties wishing to learn more about CAMINTEL, NFC and other aspects of Engagement Marketing are invited to contact the CAMINTEL office.