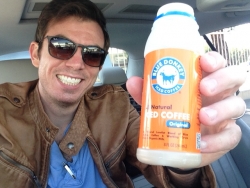 Atlanta, GA, November 05, 2013 --(
PR.com
)-- "I've wanted to break the record since I was 18 years old," Ed Bolian, 27, the sales director for Lamborghini of Atlanta, told the car buff website Jalopnik.com.
Ed noted to Fox News, "We honestly went pretty much as fast as we could the whole time," Bolian continued. "We drove in a very careful way and we didn't do aggressive passing or do any driving on the shoulder, but in order to maintain that kind of average, you've got to go really fast."
After the story became public, CNN, ABC, NBC, Fox News, USA Today, New York Post, The Huffington Post, and others covered the story.
Previous record was held by Alex Roy and David Maher's who made it in 31 hours and 4 minutes, which set it in a modified BMW M5 in 2006. Alex Roy has declined to comment on Ed Bolian's new record.
Blue Donkey Iced Coffee is a company committed to creating extraordinary iced coffee beverages with fresh, local, and 100 % natural ingredients. Bottles are available in Whole Foods Market, Kroger, Emory University, and Georgia Tech. Blue Donkey's headquarters are in Atlanta, Georgia and their philosophy starts at the farm and ends in the bottle - no exceptions.