Awards Ceremony, Appearances, "Ancient Aliens" Highlight Eventful November for Science Celebrity Geoff Notkin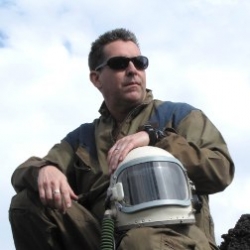 Tucson, AZ, November 06, 2013 --(
PR.com
)-- An awards banquet, a trio of appearances, and an episode of "Ancient Aliens" are all on the agenda for popular science personality Geoff Notkin this month.
Notkin is an award-winning author, adventure seeker, meteorite expert, and host of two television series: Science Channel's "Meteorite Men" and Cox7 Arizona's "STEM Journals." A former rock musician with a quick British wit, Geoff uses an entertaining and enjoyable approach to bring science to the masses through TV, radio, and personal appearances.
Details of Notkin's November schedule are as follows:
• Awards Ceremony: November began on a high note for Notkin when the company he owns, Aerolite Meteorites, was named "Stellar Partner of the Year" by Challenger Space Center Arizona. The award is presented to a company or organization that has supported the Center and its educational mission through sponsorship, grants, donations, or volunteerism. Former NASA Astronaut William G. Gregory presented Notkin with an engraved plaque at the Center's Chairman's Award Dinner on November 2, 2013. Notkin has been a tireless supporter of the Center since 2011 through financial and in-kind contributions and personal appearances. For more information, visit www.azchallenger.org.
• Science Fiction Convention: Notkin is scheduled to appear at TusCon, a sci-fi, fantasy, and horror convention being held in Tucson, Arizona, November 8-10, 2013. This year marks the 40th anniversary of the event. For more information, visit www.tusconscificon.com.
On Friday, November 8, Notkin will be on hand for the Arizona premiere of "Radio Free Albemuth," an indie film based on the novel by acclaimed author Philip K. Dick. Notkin, an Associate Producer of the film, will be joined by special guest John Alan Simon, the movie's writer, director and producer. The film screening will take place at 9 p.m. MT in the Ballroom at the Hotel City Center, 475 N Granada Avenue in Tucson.
On Saturday, November 9, at 12 p.m. MT, Notkin will be in Panel Room 1 to share tales of his meteorite hunting expeditions and his adventures as the star of "Meteorite Men." Additionally, at 4 p.m. in the Ballroom, Notkin will take part in an autograph session and will have copies of his books, "Meteorite Hunting: How To Find Treasure From Space" and "Rock Star Adventures of a Meteorite Man," available for sale and signing.
• Charity Event: On Thursday, November 14, 2013, Notkin will be a special guest of Beads of Courage at the Team Beads of Courage Rally from 6-7 p.m. MT. As host of the Cox7 television series "STEM Journals," Notkin is supporting Beads of Courage, an arts-in-medicine program for seriously ill children, by carrying handcrafted beads while filming episodes on location throughout Arizona. At the Courage Rally, Notkin and other Team Beads of Courage celebrities and athletes will meet fans and sign autographs. Everyone who attends will receive a 'Carry a Bead' kit and will be entered to win a door prize. For more information, visit facebook.com/TEAMBeadsofCourage.
• Astronomy Expo: Notkin will be a panelist and vendor at the Second Annual Arizona Science and Astronomy Expo being held November 16-17, 2013 at the Tucson Convention Center, 260 South Church Avenue in Tucson. The event offers world-renowned speakers, vendors, digital planetarium shows, exhibits, and activities for all ages. At 1:45 p.m. on Saturday, November 16, Notkin will be moderating a panel of science celebrities, including astronomer Phil Plait, spaceflight historian Amy Shira Teitel, space exploration advocate Emily Lakdawalla, and several other prominent space experts. He will also be on hand throughout the weekend in the exhibit area with an impressive display of meteorites, where he will meet with fans and sign autographs. For more information, visit www.scienceandastronomy.com.
• Ancient Aliens: On Friday, November 15, don't miss an all-new episode of the popular History Channel television series "Ancient Aliens." Notkin was interviewed at the Tucson headquarters of Aerolite Meteorites for the episode "Mysterious Relics," which looks at objects that were revered for thousands of years by ancient cultures. The episode premieres at 10 p.m. ET on H2.
Media wishing to interview Geoff Notkin at any of the above events should contact Becca Gladden, Public Relations Director, as soon as possible at limelightwriting@aol.com
Source: Aerolite Meteorites Public Relations
Contact
Limelight Writing & PR
Becca Gladden
623-210-6554
www.limelightwriting.com

Contact