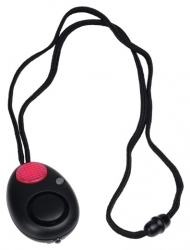 Dallas, TX, December 04, 2013 --(
PR.com
)-- Texas-based Vigilant Personal Protection Systems announces the launch of the PPS-20BL Home Medical Series personal alarm. This new pendant-style medical assistance alarm from Vigilant PPS was inspired by a customer looking for a self-contained emergency alert device for elderly patients without expensive monthly fees. The PPS-20BL is available on Amazon.com, eBay.com and VigilantPPS.com.
The Vigilant Personal Protection Systems PPS-20BL includes:
• 125dB panic emergency alarm
• Emergency activation - simply press the large red button
• Red flashing locator light - adds visual direction to alarm for low light situations
• Pendant style alarm with neck lanyard
• Tear-away lanyard clasp
• Designed specifically so that dexterity is not required to activate and deactivate the alarm
• Batteries are included, preloaded, and user replaceable
"The PPS-20BL is a emergency alert alarm that features a 125dB big button activated emergency alarm. The design is a result of customer suggestions for an alternative to high cost life saving alert systems that require monthly monitoring fees," said David Happe, president of Vigilant PPS. "We designed this alarm specifically so that it could be operated by an elderly patient. One huge red button sounds an alarm in the event of a fall or other emergency. As long as someone is within ear shot, the 125 decibel alarm will bring them the help that they need."
Pushing the large red button generates an attention getting, high pitched alarm for up to 30 minutes. A second push of the same button shuts it off. It has a red flashing emergency locator light, aimed at providing short range directional location for the alarm in the event that the alarm is activated in a low light area, automatically activating when the alarm is triggered. Visibility range of the light is approximately 20 yards at 1 lux brightness (near pitch black conditions), intended to aid the alarm with a visual indicator at short distances.
For additional information on Vigilant Personal Protection Systems (a Vigilant PPS, Inc. company) and the full line of personal alarms including the new PPS-20BL alarm, please visit www.vigilantpps.com.