Celebrities Using 20% Collagen Gel Eye Pads Are Unaware of Stronger 100% Collagen Fibre Eye Pads Available in Health Food Stores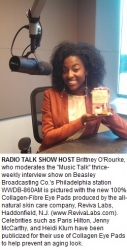 Philadelphia, PA, December 09, 2013 --(
PR.com
)-- Garnering lots of attention and publicity are single-use Collagen Gel Eye Pads used by celebrities like Paris Hilton, Jenny McCarthy, and Heidi Klum. The collagen pads moisturize, freshen and relieve the tired look under eyes and in 20 minutes lessen the look of fine lines, puffiness and dark circles.
Users praise their benefits before or after "a night out."
But a small all-natural skin-care company called Reviva Labs sells freeze-dried Collagen Fibre Eye Pads in Health Food Stores that not only offer similar attributes but can provide stronger, deeper anti-wrinkle action.
Research indicates that Collagen's potency to fight wrinkles and add skin moisture is based on its amino acid content.
The collagen ingredient in Gel Eye Pads is a liquid collagen with generally a 20% collagen –amino - acid content.
In comparison, the freeze-dried Collagen Fibre has almost 100% collagen – amino - acid content.
Reviva Labs full strength Collagen Fibre Eye Pads, contour-cut to fit under eyes, comes in a three– pair package or as a Kit with four pairs of pads along with a two-ounce trace mineral gel.
Gel is used under the dry pads. It preps skin to aid even deeper absorption.
Reviva Labs, now in its 40th year, is noted as a key pioneer of skin care education, and innovator of skin care products used internationally. Reviva's 3-pair Eye Pad Package and 4-pair Kit w/2-oz. "prep" gel are found in Health Food stores nationally, some cosmetic stores and skin salons.
More information is available at Reviva's website: www.RevivaLabs.com.
Note to Editor: If you are interested in receiving the Collagen-Fibre Eye Pad Kit #590 towards doing a review, contact Elena Cruz, American News Services, at 29 Bala Ave., Ste. 114, Bala Cynwyd, PA 19004; Tel.: 484-562-0060; E-Mail: adcomtimes@aol.com.
Contact
American News Services
Joe Ball/Elena Cruz
484-562-0060

Contact