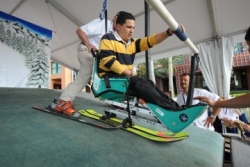 Orlando, FL, December 09, 2013 --(
PR.com
)-- More than 100 combat-wounded veterans of the War on Terror, and their families, are arriving today for the 2013 Road to Recovery Conference & Tribute, the signature annual event of the Coalition to Salute America's Heroes.
The Road to Recovery, which will be held from December 9-12 at the Loews Royal Pacific Resort at Universal Orlando, is a four-day educational and motivational event for wounded veterans and their families designed to prepare them for the challenges that lie ahead.
The all-expense-paid event features seminars, workshops and panel discussions with experts from government, the private sector and other veterans service organizations in which attendees learn about the vast array of resources and services available to them. The Conference provides career counseling, resume writing, VA benefits, healthcare and personal development to help severely wounded warriors get back on their feet and assimilate into the civilian workforce.
Other sessions will focus on PTSD, marriage counseling and financial planning, in addition to a career fair.
"We help thousands of wounded veterans every year at the Coalition, but there's no more important or rewarding work we do than at the Road to Recovery," said David Walker, President & CEO of the
Coalition to Salute America's Heroes
. "It's a transformative experience for the 400 or so men, women and children that attend, as well as for those of us that help make it happen."
Donny Daughenbaugh, U.S. Marine Corps (Ret.), lives with a bullet lodged at the base of his skull near his brain, the result of being shot in the face while on night foot patrol with his squad outside of Baghdad.
"The Road to Recovery is a one-of-a-kind event that truly distinguishes the Coalition from other veteran-focused organizations," said Daughenbaugh, who now serves as Assistant Vice President of the Coalition. "I've seen firsthand how the lives of my fellow combat wounded have been transformed, and how entire families are re-connected and rejuvenated over the four days. This conference is genuinely life-changing and, in some cases, even life-saving."
For more details on the 2013 Road to Recovery Conference & Tribute, including an up-to-date agenda and list of speakers and entertainers, please visit https://saluteheroes.org/get-help/r2r-conference/.
About the Coalition to Salute America's Heroes
The Coalition to Salute America's Heroes, based in Leesburg, VA, has provided an invaluable lifeline to thousands of America's wounded veterans since its establishment in 2004. The Coalition is distinguished from other veteran-focused organizations by its direct financial assistance to America's wounded heroes. Its Emergency Financial Aid program has stopped foreclosure proceedings on veterans' homes and kept their vehicles from being repossessed. The organization regularly provides gift checks to cover meals, medical and utility bills, clothing, car repairs and even baby diapers.
For more information on the Coalition, and to learn how you can support its mission, visit www.saluteheroes.org.