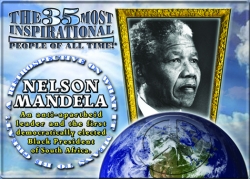 Toronto, Canada, December 11, 2013 --(
PR.com
)-- Recently departed former South African President and anti-apartheid activist Nelson Mandela is featured in a recently launched educational collectible trading card set spotlighting history's 35 'most inspirational' people. The card set is based on two years of online research and an online worldwide survey conducted on YouTube.
The '35 Most Influential People of All Time Trading Card Set' was developed by YouTube's Homemade Game Guru and Azikwe Ltd. The inaugural set was launched on November 15, 2013.
The included Nelson Mandela card was originally slated for a 2014 release with the planned second edition of the set. The first inaugural edition was based purely on historic individuals who were already deceased and at the time of the launch, Mr. Mandela was still in hospital. Nelson Mandela and the current Dali Lama were the only two living people chosen repeatedly in the survey to be included in the set. With his passing on December 5th, the decision was made to include Nelson Mandela as a free bonus card with the remaining 250 sets remaining for 2013.
In the card set, Nelson Mandela is featured along with historic legendary figures such as Jesus Christ, Albert Einstein, Abraham Lincoln, Dr. Martin Luther King Jr., Frederick Banting, Mohandas Gandhi, Joan of Arc, Constantine, Florence Nightingale and Winston Churchill. Each card in the set provides point form factual information on the life and achievements of the featured individual plus a photo.
The complete inspirational set is accompanied by another set featuring 35 'evil' people as determined by the same worldwide survey. Along with checklist cards, the combined 75-card set provides consumers the opportunity to compare the acts of positive inspiration, versus the acts of deplorable evil, which have shaped our world and lives for the better and for the worst.
The 35 Most Inspirational People of All Time/The 35 Most Evil People of All Time Trading Card Set is available on www.ebay.com and www.lanuwame.com until December 31, 2013. Visitors to the lanuwame.com website are encouraged to share their thoughts on who should be included in both versions of the 2014 second edition. There is no question that in 2014, Nelson Mandela will be a top choice for the Inspirational set yet again!