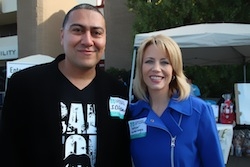 Fresno, CA, December 11, 2013 --(
PR.com
)-- 2014 California Gubernatorial candidate Dr. Robert Ornelas and Fresno Mayor Ashley Swearengin support Convoy of Hope at the Fresno Fairgrounds in Fresno, CA. "It was such an honor to participate at the Convoy of Hope event that provided free food, goods and services to the community. There was also entertainment by local bands including international Hip Hop group The S.O.G. Crew that encouraged the people. Families from Central California came out to receive a blessing from thousands of volunteers. This event was amazing," stated Dr. Robert Ornelas
Convoy of Hope was a free Fresno community event offering $1 million in free goods and services including thousands of pounds of groceries, haircuts, dental check-ups, health services, job and career services, kids carnival and more. The event provided an opportunity for more than 1000 local community volunteers to share hope and tangible help with thousands of anticipated neighbors in a spirit of honor and dignity. The community of Fresno, numerous local businesses, organizations, churches supported Convoy of Hope.
The community celebration was one of dozens Convoy of Hope hosted in 2013 throughout the United States.
About Convoy of Hope
Convoy of Hope, a faith-based organization founded in 1994, has a driving passion to feed the world through community outreaches, children's feeding initiatives, disaster response and partner resourcing. Convoy of Hope has a long history as a first responder in times of natural disasters and has been a Four Star Charity as recognized by Charity Navigator for nine consecutive years.
In 2010, Convoy of Hope assisted nearly 8 million people in the United States and around the world by providing food, clothing, medical aid, and other needed resources through their community outreaches and disaster response arms. The mission of Convoy of Hope is simple - they exist to feed millions of people in need in the United States and around the world through children's nutrition initiatives, citywide outreaches and disaster response.
Hal Donaldson, president of Convoy of Hope, knows how powerful compassion can be. On August 25, 1969, his parents, Harold and Betty Donaldson, were hit head-on by a drunk driver. Harold was killed; Betty was incapacitated for some time. Hal and his younger siblings quickly learned what it was like to live without many of life's basic necessities. However people from local churches and the community assisted the family by providing food and shelter. Those generous acts gave the Donaldson kids a sense of hope and also a determination to one day help others in need.
In 1994 Convoy of Hope was formed and has morphed into a global movement where churches, businesses, government agencies, and other organizations join forces to carry out Convoy of Hope's mission, which is to feed the world through feeding initiatives, community outreaches, disaster response and partner resourcing. In 16 years Convoy of Hope has helped more than 62 million people in more than 100 countries. In that time they have also given away more than $304 million worth of food and supplies to people in need.
Since Convoy of Hope, a 501(c)3 faith-based nonprofit, was founded in 1994 they have served more than 62 million people throughout the world through international children's feeding initiatives, community outreaches, disaster response and partner resourcing. Currently, there are more than 120,000+ children in their feeding initiatives in El Salvador, Haiti, Dominican Republic, Honduras, Kenya, Nicaragua and the Philippines. Through the feeding initiatives they provide good nutrition, clean and safe drinking water, instruction on agricultural techniques, healthy living environments and education.
Year after year, they are lauded for their effectiveness and efficiency in mobilizing tens of thousands of volunteers for community outreaches and during times of disaster response. No matter what they are doing, their objective is to always deliver much-needed food, supplies and hope to the impoverished and suffering.
How They Do It
Children's Feeding Initiatives
With millions of children going hungry and lacking access to clean drinking water each day they focus heavily on providing the basic necessities of life to those in need. Currently, Convoy of Hope is expanding its feeding initiatives to more than 120,000+ children in seven nations. They also provide clean and safe water, teach community leaders agricultural techniques and help provide healthy living environments and education.
Community Outreaches
Each year in the United States they hold up to 50 community outreaches with the help of thousands of volunteers who serve tens of thousands of guests. At each outreach free groceries, job and health fairs, and activities for children are provided. In doing so, volunteers are given an opportunity to connect with members of their community, and guests are shown love and respect regardless of age, race, physical appearance, or spiritual condition.
Disaster Response
Convoy of Hope is considered a "first responder" organization in disaster relief. With a fleet of tractor-trailers, a 300,000-square-foot warehouse, a high-tech Mobile Command Center and through a scalable distribution model they have been heralded for quickly providing resources and help to victims of disasters worldwide.
They rely heavily on the faith-based community, businesses and national and state disaster relief agencies and organizations. Because of strong alliances, we were one of the first humanitarian aid groups to distribute food in Haiti after a 7.0-magnitude earthquake struck the country on January 12, 2010.
Partner Resourcing
Convoy of Hope believes in supporting the work of like-minded organizations throughout the world. Through partner resourcing, they have empowered hundreds of organizations by providing the food and supplies they need to make a positive difference in their communities.
Capacity
Since 1994, Convoy of Hope has relied on its expertise in logistics, quality products and determined people to fulfill its mission to feed the world. To meet the pressing needs represented among the poor and suffering, the organization constantly evaluates its capacity and makes adjustments as necessary to stay lockstep with needs and opportunities in the United States and throughout the world.
* 300,000 square ft. World Distribution Center
* 6 International distribution centers
* Fleet of Trucks in multiple countries
* Over 25,000 Churches/Organizations involved
* Over 1,200 Volunteer Teams
* $306,155,027 of gifts in kind to date
* 379,552 volunteers mobilized
* As of August 2012
Learn more about the outreach by visiting http://fresno.convoyofhope.org or contact outreach coordinators at 559-697-0005.