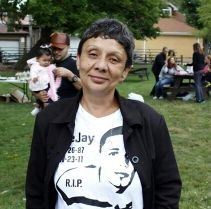 Chicago, IL, December 14, 2013 --(
PR.com
)-- A startling number of Chicago youth lives' have been cut short as the result of unprecedented acts of violence. This led two mothers of two slain young men to team up with community leaders and businessmen. Robert Torres, President of AccuQuest Drug Test, and Robert Renteria, Founder of The Barrio Foundation, said the four organized and formed the Justice and Peace Organization in October. Its mission is to ensure safety, prolong lives, and reconstruct the community by demonstrating non-violent leadership and education.
Meeting the need to manage public relations for the Justice and Peace Organization, eMediaCampaigns! recently announced a strategic partnership. eMediaCampaigns! will provide integrated media solutions for the organization. Terms of the deal were not disclosed.
"Collaborating with the Justice and Peace Organization was an easy opt in," stated Fran Briggs, Director of Operations, at eMediaCampaigns! "The crisis in Chicago has driven a need for an effective and strategic platform for violent crime reduction, and community reform. This group breaks the mold. We are honored to be part of the team."
Elizabeth Ramirez' son, 23-year-old, Harry David Rodriguez was a friendly, popular, college student-athlete, and aspiring coach. While celebrating a friend's birthday in a private residence, an unknown assailant entered the home and began to randomly shoot. Harry was hit by a bullet and subsequently, lost his life a short time later.
"My son, Lino was a great son, father, brother, and uncle. He was a family man--not a gang-banger. He didn't drink, or do drugs," added Genie Hernandez. "He was on his way to work and as he pulled out of the garage, he was shot multiple times. After he passed, I fell into a deep depression and started looking for support. I met a lot of moms in my situation who are looking for, and need help from the Justice and Peace Organization."
Both Ramirez and Hernandez expressed hope that Chicago residents, detectives, and witness will come forth with information regarding suspects in their sons' deaths, and numerous others.
Recently, Elizabeth Ramirez spoke with a gang member about his lifestyle. She asked him why he was in a gang? The young man replied, 'because I have nobody to love me'. She put a book in his hands. It proved to be the tool he needed to achieve his dreams and build a successful life.
"He accepted 'From the Barrio to the Boardroom' and actually read it," explained Elizabeth. "Later, he told me that he walked away from the gang lifestyle and gave his life to God. He turned his life around and even got a job. A bullet doesn't have an age. Violence is uncalled for. The book I gave him is about Robert Renteria's journey from gang and drugs, to becoming a vice president of a publicly traded company, and successful owner of many businesses."
Robert Renteria and Robert Torres are two Chicago civic leaders who empower the community at large, and youth in particular. They deliver ways to stay in school, out of gangs, and off drugs. Both Torres and Renteria are sponsoring complimentary copies of "From the Barrio to the Boardroom" for the cause.
"As Elizabeth told me how she lost her son to violence, it broke my heart," explained Robert Torres, president of Chicago's AccuQuest Drug Test. "Seeing the pain she was carrying inside, I new I had to help. I donated the Barrio books to her. She ran to her son's former middle school and gave the books to the principal. Yes, both Genie and Elizabeth seek justice, but they're also working to stop gangs, violence, and drugs. I am committed to helping them along."
The Justice and Peace Organization encourages and teaches youth from all backgrounds to apply nonviolence leadership to strengthen culture and reconstruct their community. Businesses and residents are encouraged to get involved. To learn more about the organization, or how to request free curricula, visit http://www.fromthebarrio.com, email robert@fromthebarrio.com, or call 312-933-5619. For media opportunities and speaking engagements, contact eMediaCampaigns!, Fran Briggs, 206.279.0818