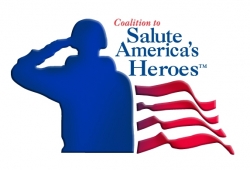 Leesburg, VA, December 17, 2013 --(
PR.com
)-- Little did Donny Daughenbaugh and Cathie Walker know that a simple side-trip to a local quilting shop would result in a nationwide out-pouring of generosity.
But that's exactly what happened when the vice president of the
Coalition to Salute America's Heroes
, and the wife of the organization's CEO, stopped at Webfabrics in Purcellville, VA, this August. They met owner Carly Mul, and told her about the important work being done by the Coalition, a Leesburg-based non-profit group dedicated to rebuilding the lives of severely wounded veterans of the War on Terror.
When they asked if Carly could help them collect quilts for the 100-plus combat-wounded veterans attending the Coalition's annual Road to Recovery Conference & Tribute in December, she said she'd try.
"I offered to put out a call to our nationwide quilting network asking them to support the cause, but I had no idea what kind of response I'd get," said Mul, who has a history of supporting charitable causes.
Mul sent out the appeal in her e-newsletter, which reaches thousands of quilters around the world. She soon received more than 100 pledges to handcraft and deliver quilts prior to the early-December deadline. She heard from women, and men, that wanted to support the project as a way of showing their appreciation for the sacrifices made by the soldiers. Most had no personal link to the military, while others had sons and daughters currently serving in Iraq or Afghanistan. A few were veterans themselves.
The initial response was heartening. But with only three weeks to go, Mul had received just 51 blankets. She sent another appeal prior to Thanksgiving, urging her customers "to move their sewing machines from simmer to low heat," Mul said.
Roughly a week before her departure for Orlando – where the 7th annual Road to Recovery was held December 9 -12 – 30 quilts arrived in one day. The Annandale Quilt Guild delivered 27 of them.
"That put us over the top, and helped me to stop being a nervous wreck," said Mul. "By the time we left, I was able to take 147 absolutely gorgeous quilts with me to the conference.
"I was so proud to do this, but this story isn't about me. It's about nearly 150 generous individuals around the country that dedicated their personal time and talents to creating a work of love that will bring warmth and comfort to an American hero they likely will never meet. I know it's a blessing that both the giver and the recipient will cherish forever."
Daughenbaugh lives with a bullet lodged at the base of his skull near his brain, the result of being shot in the face while on night foot patrol with his squad outside of Baghdad. The retired Marine knows how meaningful the gesture can be.
"When my medevac flight from Germany landed and they rolled me out the back of the C-130 in the freezing cold, a two-star general came up and covered me with a quilt," remembers Daughenbaugh. "He said, 'This is from America.' I'll never forget that moment, and that quilt has been keeping me warm ever since."
Because Mul collected more quilts than were needed for the conference, she gave the extras to Daughenbaugh, who will distribute them to wounded veterans he meets on his frequent visits to VA hospitals around the nation.
"I may not be a two-star general, but I'm looking forward to delivering these quilts to people like me that are going through some of the toughest days of their lives," said Daughenbaugh. "It's yet another way the Coalition to Salute America's Heroes is making a meaningful difference in the lives of combat-wounded men and women."
The annual Road to Recovery Conference & Tribute is a four-day educational and motivational event for wounded veterans and their families designed to prepare them for the challenges that lie ahead. The all-expense-paid event provides career counseling, resume writing, VA benefits, healthcare and personal development to help severely wounded warriors get back on their feet and assimilate into the civilian workforce. Other sessions focus on PTSD, marriage counseling and financial planning, in addition to a career fair.
"We help thousands of wounded veterans every year at the Coalition, but there's no more important or rewarding work we do than at the Road to Recovery," said David Walker, President & CEO of the Coalition. "The quilts Carly brought to the event could not have been more perfect. Every single man and woman that received one was genuinely moved by the generosity of the quilter. This entire week was a transformative experience for the attendees, and the quilts were one of the true highlights."
About the Coalition to Salute America's Heroes
The Coalition to Salute America's Heroes, based in Leesburg, VA, has provided an invaluable lifeline to thousands of America's wounded veterans since its establishment in 2004. The Coalition is distinguished from other veteran-focused organizations by its direct financial assistance to America's wounded heroes. Its Emergency Financial Aid program has stopped foreclosure proceedings on veterans' homes and kept their vehicles from being repossessed. The organization regularly provides gift checks to cover meals, medical and utility bills, clothing, car repairs and even baby diapers.
For more information on the Coalition, and to learn how you can support its mission, visit www.saluteheroes.org.