"So You Think You Babysit Monsters?" A New Middle Grade Fantasy Book, Releases for the New Year
"Help! The kid I'm babysitting just turned into a monster!" Mackenzie Abercrombie doesn't mean the little boy she's babysitting is acting like a monster - little Michael Roper has actually turned into one! A dragon to be exact. What's a babysitter to do when she's in charge and it's hours until his parents come home?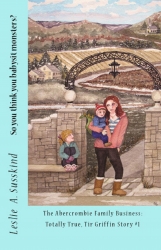 Strafford, PA, January 02, 2014 --(
PR.com
)-- Children's author Leslie A. Susskind announces the New Year's release of her latest book, "So you think you babysit monsters?"
"So you think you babysit monsters?" is the first book in her new middle grade fantasy series, The Abercrombie Family Business: Totally True, Tir Griffin Story #1. It tells the story of thirteen year old Mackenzie Abercrombie, who really does babysit monsters. She's Tir Griffin's newest undercover Magic Minder, a role her family has held for generations.
But in addition to getting the hang of babysitting monsters, Mackenzie also has middle school and Ben, the cute new boy in her class, to worry about … and if her two very different worlds collide, does she have what it takes to save the day?
Susskind specializes in telling entertaining, humorous stories that capture the essence and magic of childhood along with the fears and concerns of tweens everywhere. While her first series, The Zephram Tales, takes place in a fantasy realm, The Abercrombie Family Business takes place outside of Philadelphia, Pennsylvania in current day, an area she knows well because she lives there with her family. In addition to her novels, she is also the author of several manners and good sportsmanship themed books.
Print and ebook versions are available on Amazon, Barnes and Noble, iTunes, Sony and other online retailers. Anyone interested in winning a copy can enter a Goodreads giveaway which ends January 14, 2014. For more information and to read the first chapter, visit www.lesliesusskind.com. For inquiries, she can be reached via the website or directly at lesliesusskind@aol.com.
Contact
Leslie A. Susskind
610-648-5306
www.lesliesusskind@aol.com

Contact