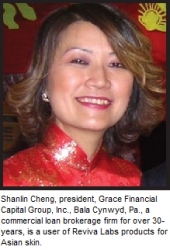 Philadelphia, PA, January 10, 2014 --(
PR.com
)-- Asian-Americans having specific under-eye skin care needs are now being aided by special eye care products from a natural-ingredient skin-care company.
One of the products lightens severe dark circles, helping the under eye area look clearer and brighter.
Another fights puffiness, smooth's crow's feet and diminishes bags under the eyes.
The products are self-applied.
They come from Reviva Labs, Haddonfield, N.J., one of America's longest-established (40 years) skin care products manufacturers, and pioneers of skin-care breakthroughs.
Although Reviva offers a 6 product eye care line, two of the special eye care products for Asian skin are exclusive from Reviva Labs.
The two are:
Under-Eye Dark Circle Serum
It features contents such as biopeptide/bioflavanoid complex.
and
Reviva Lab's Eyelid Serum.
Fights eyelid withering and sagging.
Also popular with Asians is their Eye Complex Firming Cream and a more potent Firming Eye Serum that meets multi-needs of the eye area. Reviva Labs Vitamin E Stick, primarily for the lips, is also popular under eyes.
Reviva Labs products for Asian skin are available in Health Food stores, and cosmetic stores throughout the U.S., and in Singapore and Mainland China.
Also on the Internet at www.RevivaLabs.com.
For additional free information, or literature E-Mail to adcomtimes@aol.com.
Note to Editor: A sample can be mailed to the Editor directly from Reviva Labs. Please let us know the name and address to whom it should be sent. Contact: Elena Cruz, American News Services, at 29 Bala Ave., Ste. 114, Bala Cynwyd, PA 19004; Tel.: 484-562-0060; E-Mail: adcomtimes@aol.com.