Coalition to Salute America's Heroes Sponsors Two Families for 7th Annual Wounded Warriors Ski Week
Week-long trip to Breckenridge aims to build esteem, restore family bonds.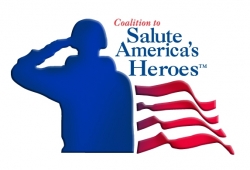 Leesburg, VA, January 22, 2014 --(
PR.com
)-- More than 50,000 U.S. soldiers have endured physical injuries in the Iraq and Afghanistan wars and an estimated 300,000 suffer from traumatic brain injuries or Post Traumatic Stress Disorder. But the sacrifices made by these true American heroes don't end there. Career opportunities are often diminished and family relationships fractured.
In addition to its primary mission of providing emergency financial aid to severely wounded veterans of the War on Terror, the
Coalition to Salute America's Heroes
(Coalition) often supports world-class recreational therapy programs that provide its constituents with an emotional and social respite that otherwise would not be financially viable.
The Coalition announced today that it will award a grant of $5,000 to enable two families to attend the 2014 Wounded Warriors Family Ski Week, scheduled for April 6-13 in Breckenridge, CO. Organized by Wounded Warriors Family Adventures, the program strives to achieve two goals: 1) Broaden the warriors' perceptions of what they can achieve; and 2) Reconnect family members through enhanced communication and understanding.
"Sometimes, the best thing we can do for a wounded hero is provide an opportunity for family bonding and healing in a fun and safe environment," said David Walker, President & CEO of the Coalition to Salute America's Heroes, a leading not-for-profit organization dedicated to rebuilding the lives of severely wounded veterans of the War on Terror. "The WWFA offers an exceptional setting for these brave men and women and we're pleased to provide an opportunity for two families to benefit from the experience."
The WWFA provides unique family adventures that include transportation, lodging, activities, food and counseling sessions at no charge to disabled veterans and their families. Its signature event, the Family Ski Week, features one-on-one adaptive ski and snowboard lessons, group outings and counseling for 10-12 warriors and their families.
"We're very grateful for the support of the Coalition to Salute America's Heroes," said Robert Miller, President of Wounded Warriors Family Adventures. "The Coalition is a very generous veterans charity, and we're proud that they selected our Family Ski Week program to help fund. We hope this is the first of many opportunities we'll have to work together to serve our nation's best men and women."
The Coalition to Salute America's Heroes, based in Leesburg, VA, has provided an invaluable lifeline to thousands of America's wounded veterans since its establishment in 2004. The Coalition is distinguished from other veteran-focused organizations by its direct financial assistance to America's wounded heroes. Its Emergency Financial Aid program has stopped foreclosure proceedings on veterans' homes and kept their vehicles from being repossessed. The organization regularly provides gift checks to cover meals, medical and utility bills, clothing, car repairs and even baby diapers.
For more information, and to learn how you can support the Coalition's mission, visit www.saluteheroes.org.
Contact
Coalition to Salute America's Heroes
Ladd Biro
817-675-3499
www.saluteheroes.org
Champion Management is proud to be the Coalition's PR agency of record.

Contact