Four of New York's Most Valuable Patriots to be Honored at Super Bowl Weekend Party
Decorated combat-wounded veterans to promote Troops First Foundation's Operation Warrior Call program at the MVP Party.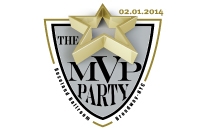 New York, NY, January 23, 2014 --(
PR.com
)-- Four decorated combat-wounded veterans from the New York Metropolitan area will join the four New York Super Bowl MVPs in a salute to those who serve the USA and to help promote Operation Warrior Call. The program created by the Troops First Foundation was established to encourage service members to reach out to fellow returning veterans. The event will take place as part of
The MVP Party
at the Roseland Ballroom on Super Saturday Night February 1st, 2014.
Mike Brown from Staten Island, Tom Deierlein Garden City, Brendan Marrocco also from Staten Island, and James Van Thach from Queens will join the New York football legends for a group photo as part of the MVP Party program. This will be the first time all four New York Super Bowl MVPs will have ever appeared together. Comedian and Impressionist Frank Caliendo is the special guest host.
"We are thrilled to be able to attend, honor these brave men and promote Operation Warrior Call," said Rick Kell, Executive Director of the Troops First Foundation. "These warriors from the New York area are the best of the best and are an inspiration to all of their returning comrades."
Operation Warrior Call is a nationwide effort established to encourage service members to reach out to fellow 'battle buddies' in order to reconnect and check in on each other's well being.
"It is an honor for me to meet these great warriors and to be a part of recognizing their contribution to our country," said Phil Simms NY Giants Super Bowl MVP XXI.
"They are the real MVPs," said Joe Namath NY Jets Super Bowl III MVP. "In my opinion we cannot do enough to show our appreciation for what they have done for all of us."
Feherty's Troops First Foundation, a 501(c)(3) nonprofit organization co-founded by professional golfer and CBS Sports and Golf Channel writer and broadcaster David Feherty. The Troops First Foundation works to provide meaningful assistance to U.S. Military who have been wounded while serving in Iraq and Afghanistan.
www.troopsfirstfoundation.org
The MVP Party is produced by former New York radio executive Stuart Layne and is one of the remaining high profile events at the Roseland Ballroom before it closes in April. Musical guests include New Jersey's own Southside Johnny and the Asbury Jukes and the Doobie Brothers. Event information can be found at
www.themvpparty.com
or by calling 888-652-0851. The MVP Party is not affiliated with the NFL or the Super Bowl.
For more information:
Troops First Foundation
Rick Kell
301-776-0790
info@troopsfirstfoundation.org
Seven 2 Sports Marketing (MVP Party)
Stuart Layne
978-317-9797
slayne@seven2sports.com
The Honorees are:
Staff Sergeant Mike Brown is 30 years old and a New York Giants fan. He joined the Army in October 2001. He did two deployments in Iraq and one in Afghanistan where he sustained injuries resulting in the amputation of his leg. He is currently stationed with the Joint IED Defeat Organization at the Pentagon.
Retired Major Tom Deierlein, a West Point graduate and former Army Airborne Ranger was recalled to active duty in October 2005 after twelve years in the inactive reserves. While deployed in Iraq, he sustained severe injuries from enemy fire. He is co-founder and President of the TD Foundation which provides aid to children directly affected by war in Iraq and Afghanistan, as well as to children of wounded warriors and fallen heroes in the US. He is also co-founder and CEO of ThunderCat Technology, named by Forbes as one of "America's Most Promising Companies."
Retired Sergeant Brendan Marrocco joined the Army in January 2008. By October of that same year, he had deployed to Iraq. On Easter Sunday 2009, Brendan's vehicle was struck by an EFP resulting in the amputation of both legs, both arms and the loss of his left eye. He is the first surviving quadruple amputee of Operation Iraqi Freedom. Having received a double-arm transplant in December 2012, Brendan is currently undergoing physical and occupational therapy at Walter Reed.
Retired Captain James Van Thach is 38 years old. He joined the Army in October 1994. He did two deployments in Iraq and sustained injuries during both resulting in TBI, vision loss and damage to his left leg, neck and spine. He is currently preparing to take the New York Bar Exam. He hopes to use his law license and be a legal advocate to Veterans to ascertain their benefits and to help them in cases where they have been discriminated against because of the Veteran status.
Contact
Seven 2 Events
Stuart Layne
978-317-9797

Contact