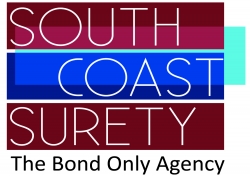 San Clemente, CA, January 28, 2014 --(
PR.com
)-- South Coast Surety closed out 2013 strongly, posting its largest year ever in premium and commission production. The year was filled with changes for this national wholesale surety agency; they moved into a larger office facility early in the year, converted to a new database at mid-year and increased its staffing to over 20 processors, supervisors, officers and administrative personnel. All this was accomplished while growing both the gross and net volume by more than 10%.
For the first time in South Coast Surety's nearly 20 years of operation they generated more than $8 million in premium, with a near 50/50 split of contract and commercial bond production. Much of this success is due to the extremely successful in-house surety programs underwritten with their A+++ rated surety partner, which the company brought onboard over the last two years. Both their Construction and Commercial Contract Express Programs have been well accepted and generated a tremendous quantity of effectively placed surety business. Adding to these great surety platforms is their in-house Sub-Standard and Non-Standard commercial surety operation.
The considerably popular in-house Express Contract Surety programs have made significant impact on construction contractors as well as service and supply/install contract accounts. With single jobs up to $400,000 and bonded aggregates up to $800,000, this aggressive surety support program has allowed many businesses, unable to previously qualify, to bid and perform public works and private jobs that require bond guarantees. The Express Contract applications require little or no financial information for the small to medium sized accounts that are seeking surety bonding.
The Construction side of the Contract Express Program handles nearly all facets of construction classifications. The Service/Supply (Commercial Contract) side supports service contractors such as Guard/Security, Transportation/Bus, Janitorial, Entertainment, Landscape, Photography, Window Washing, Pest Control, Food Service, Wireless Networking, Street Sweeping, Boiler/Generator Retrofit, Tower Maintenance, IT Support and more. The Supply/Install side works with; Office/School Supplies, Flooring/Counters, Fencing, Modular Buildings, Work Trailers, Landscape, Portable Restrooms, Cabinets, Painters, Computer/ Electronic Equip., Irrigation Equip., Boiler/Generators, Low Voltage Wiring, Software, Wireless Installations, Specialized Vehicles, and others.
South Coast Surety's in-house Sub-Standard and Non-Standard commercial surety operation is able to provide approvals up to $100,000 for applicants that have had credit problems. They can approve requests for principals that have past due accounts, some small outstanding judgments and liens, and past bankruptcies.
South Coast Surety's experienced staff of surety professionals strives to provide effective and responsive surety support to clients and insurance brokers in all 50 states. Their surety market partners include most surety companies writing surety bonds in the country. All of their applications and information can be accessed through their website at:
http://www.southcoastsurety.com/
. South Coast Surety is also among the top national surety agencies providing the full spectrum of contract surety, commercial surety, license/permit, fidelity and miscellaneous surety bonds.