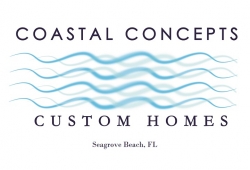 Santa Rosa Beach, FL, February 21, 2014 --(
PR.com
)-- Sustainable building processes in conjunction with economic recovery is the driving force behind current Panhandle construction growth. Current President of RTU Ventures LLC. Custom Homes of Atlanta, GA &, EcoMech LLC. Geothermal and Mechanical of Atlanta, GA, Tim Uzar, is responding to this trend by announcing the Florida formation of Coastal Concepts Custom Homes.
Coastal Concepts Custom Homes is a company dedicated to building high-end, sustainable residential homes in the Beaches of South Walton region of Florida. "When building a new house in the South Walton County clients should consider the four tenets of green building: energy efficiency, resource efficiency, healthy indoor air and durable construction," said Uzar. "With people becoming more and more conscious of the environment and wanting their hard earned dollars to go farther, it just makes sense to build sustainably."
Construction in South Walton County is not new to Uzar as a past Co Hwy 30-A resident from 2003 - 2006, Tim was a part of several construction projects located along 30-A including the Watersound Gatehouse, Watersound Compass Point I @ II Condominiums, Rosemary Beach Private Residence Club and two Marriott Hotels located in the Sandestin area.
Launching Coastal Concepts is not something that Uzar has taken lightly. In fact, starting this business is simply leveraging much of the experience he already has since his construction career began in 1995. "I have surrounded myself with the best and the brightest and learned from all of them. Some construction companies I've noticed, are led by people who have a background in a completely different field but decided to begin constructing beach homes merely for the location in which they can now call work. Currently, I hold over 13 construction related certifications including six state contractors licenses and a BS degree in Construction Management from Southern Polytechnic State University. All that has been very expensive and time-consuming, but it's worth it, as it leads me into different areas of construction expertise," Uzar explained.
Pulling from a background of both commercial construction and residential construction management Coastal Concepts Custom Homes effectively delivers their projects to the client on time and within budget with clear and open communication to the client. "Years ago I was involved with a personal local condominium project that was being constructed by a local contractor. The contractor changed the roofline and front entry doors without the HOA's consent and actually charged me to fix a bowed wall in my kitchen. These construction practices are completely unacceptable to me as both a customer and a contractor," Uzar Explained.
Incorporating energy efficient technology is known to not only increase resale value, but also increase durability, which also increases customer satisfaction and provides a return on its investment, which is why it is a focus of Coastal Concepts as a company. "Building a more durable and more efficient home is building smarter," said Uzar. Coastal Concepts will begin their marketing campaign using online presence expertise to assist the company in the panhandle expansion.
For more information on Coastal Concepts visit www.30a-customhomes.com or to schedule an interview with Tim Uzar, call 678-673-1822 or contact the company via email at Timuzar@gmail.com