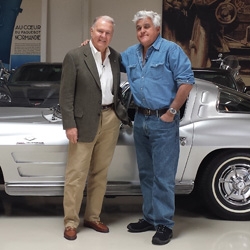 Henderson, NV, February 22, 2014 --(
PR.com
)-- Jay Leno interviews World renown automotive designer Peter Brock, about Brock's new book on the creation of the first Corvette Sting Ray, the 1963 split window (link to video of interview below). The book recently was awarded the Motor Press Guild's most prestigious honor, the Dean Batchelor Award, as the best automotive piece for 2013 across all mediums such as film, video, books, articles, photography.
At the age of 19, Brock was one of the youngest designers ever hired into GM Styling and is the last remaining member of the team that worked on the Sting Ray. When he started at GM, he had little idea that corporate circumstances far beyond his understanding would deliver the opportunity of a lifetime; a chance to interpret the vision of GM VP of Styling William "Bill" Mitchell to create the 1963 Corvette Sting Ray.
Brock shares with Leno his firsthand knowledge of the inspiration that drove the design of the car, the politics that put the existence of the Corvette program at risk and caused the building of a secret room where the car was designed away from the eyes of management, the four dynamic personalities within GM that drove the passion behind its existence and the design process.
Leno (with his own '63 Corvette Sting Ray in the background) shows a sampling of the 180 photos (most directly from GM's archive or those that Brock took at the time) and Brock's sketches from '57 that are in the book.
See the interview with Jay Leno here
.
Read about the book on Peter Brock's BRE website here
.