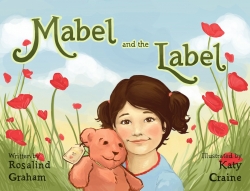 New York, NY, February 27, 2014 --(
PR.com
)-- From the publisher of the best seller The 80/10/10 Diet a children's series with heart written by Rosalind Graham and illustrated by Katy Craine.
In the first volume of the series, Mabel sets out to bring a new member to her family - a teddy bear. Mabel's discovery that her precious new bear has a label attached to him leads to a very interesting conversation with her wise mother.
A charming story on being our true selves without labels.
Rosalind Graham is a devoted mother and homeschooling teacher who is a dedicated life-long student of grace and compassion. For twenty-five years Rosalind has been an international health educator and inspirational speaker. She now lives with her husband Dr. Douglas Graham in West Sussex, England along with their daughter and a small animal sanctuary.
A hard cover with sewn binding beautifully produced at 9x11 is 24 pages of pure joy meant to last and be a great gift to any family, school, or organization.
ISBN 9781893831322
Request copies from
FoodnSport.com
,
Amazon.com
, and New Leaf Distributing Co.