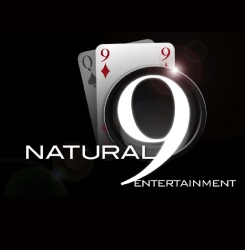 Burbank, CA, February 27, 2014 --(
PR.com
)-- Natural 9 Entertainment, a Burbank-based Emmy® Award-winning production company, has announced today their TV productions set to air in 2014. "The Wildlife Docs," a weekly half-hour series about the daily adventures of the highly skilled veterinarians at Busch Gardens Tampa currently airing on ABC as part of Litton's Weekend Adventure, has been renewed for 13 additional episodes. Natural 9 Entertainment-produced special "Paul Mitchell All-Star Winter Sports Invitational" featuring Alec Baldwin, Marcia Gay Harden, Cheryl Hynes and Robert F. Kennedy Jr. among others, will air on FOX Sports starting in February. The company also produced the "22nd Annual MovieGuide® Awards" that features a performance by Joni Eareckson Tada of "Alone Yet Not Alone", a song at the center of the recent Oscar® nomination scandal, set to air on March 1, 2014 on the REELZ Channel.
Additionally, the company has announced today that it is teaming up with Viardo Artists, a Beverly Hills-based entertainment company specializing in talent management and production, in a partnership which will expand both companies' production and representation rosters. Viardo Artists founder Phil Viardo has been named as the Executive Vice President of Development and Talent for Natural 9, while Viardo Artists will become a de facto management wing for the company as part of this deal. Both companies have previously teamed up to produce "Chris & Adrianne Do Russia" for WE Television and have also co-created the weekly syndicated half-hour entertainment news program "Hollyscoop."
Natural 9 Entertainment also announces their new executive roster. Company founder Carol Sherman has promoted Emmy-award winning producer Jeff Androsky to President and CEO; Christine Blake has been promoted to Senior Vice President of Production and Craig Ordelheide has been named Senior Vice President of Post Production.
"I am thrilled to be able to announce these new projects and our distinguished executive roster," said Carol Sherman, founder of Natural 9 Entertainment. "Our talented team will oversee and execute all elements of development and production for our diverse development and production slate for 2014 and beyond."
Natural 9 Entertainment is represented by Stephen Marks at Evolution Entertainment Partners.
For more information on Natural 9 Entertainment and Viardo Artists, please visit
www.NatNine.com
and
www.ViardoArtists.com
respectively.
About Natural 9 Entertainment/Viardo Artists:
Headed by 11-time Emmy Award-winning producer Jeff Androsky, Natural 9 Entertainment has produced thousands of hours of aired Television for virtually every Network and Cable outfit over the last two plus decades including shows such as "9 On The Town," "Reality Remix," "Reinventing Bonaduce," "Hollyscoop" and such TV specials as "FOX's New Year's Eve Live" and "VH1 All Access: Angels Across America." Currently, Natural 9 is producing "The Wildlife Docs" now airing on ABC. Viardo Artists is a full service entertainment company specializing in Talent Management, PR and Production, with offices in Beverly Hills and Burbank, California. Lead by Phil Viardo, the company's talent roster includes Christopher Knight, George Gray and Adrianne Curry among others.