MTR Gaming Group Executive Resigns - Pursues Social Gaming Startup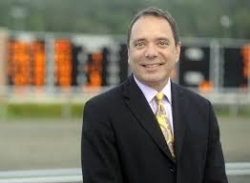 Cranberry Township, PA, March 04, 2014 --(
PR.com
)-- MTR Gaming Group Chief Marketing Officer, Fred Buro, recently announced his resignation and is pursuing a startup opportunity in online social gaming.
To date, most US land based gaming companies have shied away from social gaming, notwithstanding its robust revenue stream and its contribution to the bottom line for a few notable US gaming companies which include Caesars Interactive Entertainment which generated $290 million in revenue from social gaming in 2013, and International Game Technology (IGT) whose 2013 social gaming revenues increased 151% to $219 million. According to Superdata, the market for online social casino games continues to thrive. For 2015e a total spend of $4.4 billion is projected.
"The proliferation of online gaming in the US is happening now, and its integration with all land-based casinos in the country is inevitable," said Buro. "So now is the time to be in the online casino gaming space - I have the pedigree, contacts, creativity, and passion, to create something extraordinary in this industry. This is a perfect fit for me."
Buro's most recent project includes the development and deployment of an online gaming platform and player's club (inclub.com) for the MTR Gaming Group along with the requisite digital/social media marketing and a big data mining strategy which was developed using Oracle's cloud-based SRM platform.
"Success in this space requires the precise mix of desirable content and cadence of new product, excellence in big data mining & social media marketing, loyalty and player's club value, an extraordinary user experience, sustained player acquisition and a constant awareness of the competitive dynamic."
Buro's priority is to start a niche online social gaming company although securing an investor must happen first. "Although I have not ruled out partnering with a land-based casino operator that has aligning interests," said Buro.
Buro delivered an address at the annual ICE 2013 gaming conference in London on the subject of social and online gaming. You can find his subsequent interview on you tube:
http://www.youtube.com/watch?v=388ZcxHw9QQ
Buro's 24 year casino gaming career includes top positions for MTR Gaming Group, Trump Hotels & Casino Resorts, Penn National Gaming, and Tropicana Entertainment/ Columbia Sussex.
For more information please contact:
Lou Perseghin, ChatterBlast Media,
lou@chatterblast.com
or tele: 215-475-5480 x 705
Contact
ChatterBlast Media
Lou Perseghin
215.475.5480 ext. 705
www.chatterblast.com

Contact