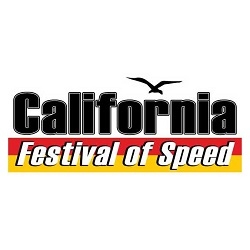 Los Angeles, CA, March 07, 2014 --(
PR.com
)-- The 13th running of the California Festival of Speed is fast approaching! Hosted by Zone 8 of the Porsche Club of America, this event will take place April 4-6 at the Auto Club Speedway in Fontana, CA. The Festival is the largest Porsche event in the Southwest.
At its core, the Festival is a PCA Club Race, which is amateur racing at its best. This sport sees Porsches old and new out on the track for a weekend of exciting wheel-to-wheel action. Of course, even more important than having fun, safety is the primary goal as nobody has corporate sponsors bankrolling them or their cars. Everybody wants to go home in one piece, with the only hits being taken by bruised egos.
Much more than a club race, however, this weekend features something for everyone. Autocross, Concours, Time Trial, Pirelli Cup Racing, Parade Laps, Porsche Corral and a hospitality area featuring a vendor row and goodie store and more. This is a festival because it has something for everybody!
At the Festival the autocross isn't intended to be a normal competitive event. Rather, the goal is to try to capture the attention of those that won't normally seek out a performance driving event. Maybe, just maybe, they'll get caught up in the excitement of the races and be willing to give it a try themselves. From there, who knows? There are plenty of autocross events throughout Zone 8 waiting for them should they catch the bug from this "taste of autocross."
The Time Trial is the perfect breeding ground for future club racers, and a great stepping stone up from Autocross. This event emphasizes learning how to deal with traffic (in addition to car control). Their final racing event is the Pirelli Cup racing team. This group of award winning pros always join for a few sessions each day to practice for their upcoming series events; which certainly contributes to the excitement of the weekend.
For those that aren't driving, the center of activity is vendor row. They feature dozens of vendors that specialize in products for your Porsche and more, as well as a food court of LA food trucks. Surrounding vendor row will be several car displays. On Saturday they feature the Porsche Timeline, a car show that this year will feature a display of the four and eight cylinder Porsches that have produced over the years. Next to the timeline will be a Concours, where the Porsches will be judged and their owners rewarded for their efforts in the cleanliness and preparation of their vehicles. On Sunday they will have a Supercar Paddock which will feature exotic and rare cars of all types.
During the lunch break each day, the track will be open for Parade laps. For a small fee you too can see the track from the racers point of view, imagining the excitement as you take your car through the twists and turns of the track.
Plenty of parking is available each day so don't be afraid to come down to the California Festival of Speed. Saturday is Porsche Corral day, where attendees bringing Porsches will be parked according to model. Sunday is Car Club day, where participating car clubs will each have their own parking area available. More information can be found at
www.calfestival.org
and visit us on Facebook at:
https://www.facebook.com/CaliforniaFestivalOfSpeed