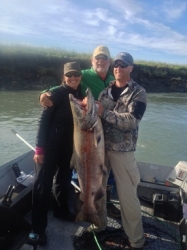 Kenai, AK, March 18, 2014 --(
PR.com
)-- Fishing the many rivers, streams, lakes and saltwater of the Kenai Peninsula, Gary and Valarie Early have provided exceptional adventure for their Alaska Guests for over 31 years. Their beautiful lodging is riverside on one of best locations on the famous Kenai, in Soldotna. Their fishing expertise has earned them a reputation as some of the best guides on the Kenai.
Dustin Russell, started fishing the Peninsula more than 15 years ago, ironically getting some of his personal experience with Early Fishing. Russell Fishing Company has expanded their business in recent years to include eight licensed and experienced guides, 4 drift boats, 4 river sleds and 2 saltwater boats.
Both companies have much in common. In addition to offering lodging and full service outfitting for their own guests, both provide superior sub-contractor work to many other lodges who don't have their own boats and guides. The two companies pride themselves on fishing expertise and results, employing only the best guides, using only the finest equipment and gear and making customer satisfaction their number one priority.
A new structure is evolving for 2014 and beyond. Both companies will book lodging at the Owen & Early's Quality Lodging and the Swain Lodge on the Kenai River and both with continue independent bookings for their valued guests. Each company will handle some of the others river charters when sub-contractors are needed. Russell will provide saltwater charters for Early Fishing guests who want to experience Cook Inlet fishing. Familiar faces will be around all summer to greet returning guests.
Russell will take responsibility for a new website and associated enterprise that will be called Russell's Early Fishing. Russell's general manager Glenn, will promptly respond to website inquiries and coordinate the Kenai Alaska Vacation Packages.
The Early Fishing name is not going away. Over the next few years, Gary and Val will reduce their fishing time on the Kenai. As this happens, Russell Fishing will gradually immerse itself and fill any guest needs. In the winter, Early Fishing and Russell Fishing will continue to provide fishing trips and their individual Northwest businesses will remain separate.
The official start date for the new affiliation is 3/15, which will start with the publication of the new website
www.alaskaearlyfishing.com
.
If you have any questions, feel free to call Val at 907-262-6132 or Glenn at 541-254-0679.