Emeka Releases Debut Music Video, "Destination Anywhere"
"Destination Anywhere" is the new music video from "Training Camp," Emeka's debut EP. The video reveals a boxer's struggle with addiction and his fight to overcome it. Emeka is an Omaha Hip Awards "Best New Artist" nominee.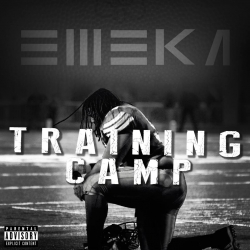 Omaha, NE, March 26, 2014 --(
PR.com
)-- Hip-hop artist, "Emeka," has released his debut music video, "Destination Anywhere," on YouTube.
Emeka's new music video, "Destination Anywhere," is about a boxer who has a drug overdose and fights his addiction with the focus and relentlessness he uses in the boxing ring. The story was conceived by filmmaker James Kriha and directed by Justin Wieczorek. It was shot in Lincoln, Nebraska, and stars MMA fighters Justin Weaver and Nathan Maas.
Though most of Emeka's 46,000 Twitter followers know him as a fierce defensive lineman from the University of Notre Dame, his music reveals his introspective side. Emeka's "Destination Anywhere" lyrics are inspired by some of his former classmates past struggles with addiction.
"Addiction can take you down many different paths," said Emeka. "It's up to you to decide if you want to continue down the wrong path or change directions and improve your life."
Emeka is a songwriter, recording artist, and producer from Miami, FL. He is nominated for three Omaha Hip Awards: Best New Artist, Best Original Album, and Best Original Song. Emeka attended college at the University of Notre Dame from 2007-2011 and received his Degree in Psychology. He currently resides in Omaha, NE.
Emeka's first FreEP/album, "Training Camp," was released December 15th, 2013. It is inspired by his life as a collegiate student athlete. Emeka's music is melodic with space tones and alternative sounds. He makes relaxing stoner music to vibe to and reflect on. While Emeka's music celebrates the good, the bad and ugly, it daringly examines modern culture and the society that we live in. Emeka's musical influences include the late great Bob Marley, Michael Jackson, and Johnny Cash. Though he finds inspiration from many places, Emeka's music is clearly in a lane of its own.
Watch the "Destination Anywhere" music video here:
https://www.youtube.com/watch?v=G2fdPUO4U5Q
For more information, contact officialemeka@gmail.com.
Connect with Emeka:
emekamusic.com
youtube.com/kingmek91tv
facebook.com/emekamusic
twitter.com/emekamusic
reverbnation.com/emekamusic
instagram.com/emekamusic
Contact
Emeka Music
Emeka Nwankwo
(402) 779-7345
www.emekamusic.com

Contact