Ozeal Glasses Decodes the Hottest Trends in Sunglasses for 2014
Visit the Ozeal glasses online stores to get a glimpse of all the latest and the hottest sunglasses that they can buy from this store.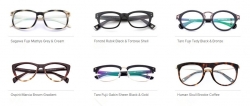 New York, NY, March 28, 2014 --(
PR.com
)-- People begin to look for the latest and the hottest trends in sunglasses when the summer is coming and they want to know about the latest sunglasses that will make them look trendier and hotter this summer. Well, Ozeal glasses online stores may be a good option to get a glimpse of all the latest and the
hottest sunglasses
that they can buy from this online glasses store. Ozeal glasses has a collection of some of the top and trendy sunglasses that have become a huge fashion in 2014 and the best thing is that its customers can get it at the most affordable and low prices in the online marketplace.
2014 Latest Sunglass Trends
Some of the latest and newest sunglass trends that are capturing the attention of women this year are: oversized glasses, tortoise shell glasses, the Instagram look, the mathematical look, colorful frames, oversized aviators and so on. Summer seems little far off from now. But, there will be a lot of women who would love to invest in a new pair of sunglasses just in time for the summer and it is worth trying out the latest trends and 2014 sunglass vogues available in the market place. Oversized sunglasses are a vogue even now and people get it in round, rectangular, square and oval shapes. They add beauty and offer retro style look to their wearer's face. Another interesting fashionable sunglass that is in great demand in 2014 as well is the tortoise shell sunglasses. It is made from hawksbill turtle shells and is a fashionable accessory even in 2014. Colorful frames are a fashion statement this year and people get the frames in different colors like green, white, black, polka dotted ones and so on these days.
Buy From Ozeal
So, from where will people get all these latest and trendiest sunglasses at affordable and low prices? Well, the answer is Ozeal glasses. All these latest fashion factors as far as sunglasses are concerned are available at bargain prices at Ozeal and people can buy glasses online sitting in the comforts of their home. If one would like to add his single vision prescription or bifocal power prescription to his latest sunglasses, then Ozeal also offers this option to buy prescription sunglasses from them. People will find all the above latest 2014 trends of sunglasses as well as endless sunglasses of various colors, sizes, shapes and designs at their online store. Whatever type of sunglass that people are looking for this summer, be it aviator sunglasses or retro-styles sunglasses or colorful framed sunglasses, they will find many varieties and designs of sunglasses at Ozeal.
One of the most popular online eyewear selling stores Ozeal glasses. There are thousands and thousands of pairs of sunglasses that people can choose from in the 2014 collection. Just log on to www.ozealglasses.com and view all the latest fashion sunglasses for women in 2014. Feel free to contact Ozeal on:service@ozealglasses.com.
Contact
Ozeal Glasses
Aaron Wang
8618622231080
www.ozealglasses.co.uk

Contact