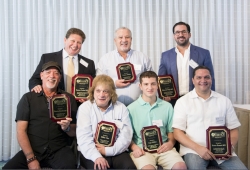 Naples, FL, March 26, 2014 --(
PR.com
)--
The Alliance for the Advancement of Adult Stem Cell Therapy and Research
hosted an awards luncheon for doctors and patients from around the world to recognize and honor their outstanding contributions and achievements in adult stem cell therapy. The event was held at the Naples Beach Hotel and Golf Club in Naples, Florida, on Saturday, March 22, 2014.
The Stem Cell Alliance event celebrated the revolutionary strides in the field of adult stem cell treatments for cardiac, pulmonary, neurological, spinal cord injuries and vascular diseases. Kelly Drouin of the Stem Cell Alliance, conferred awards to the
Regenocyte
medical team including Doctors
Zannos Grekos
, Hector Rosario, Eduardo Mejia and, in absentia, Victor Matos for their work and dedication in adult stem cell research and treatment.
"These doctors are pioneers in clinical application of adult stem cell therapy and heroes to the many patients in attendance. Some of the patients had lost all hope after being told by their own doctors that they were out of options in the treatment of their disease," said Drouin.
The Stem Cell Alliance also recognized and awarded each of the attending patients for their courage and for leading the way for others to follow by undergoing adult stem cell treatment. Each patient spoke with heartfelt conviction; describing their prognosis and the life-saving benefits of the adult stem cell therapy they received.
"Quality of life improvements measured by being able to independently transfer or dress yourself or walking without a cane, not needing an oxygen tank, or no longer requiring a defibrillator are priceless," stated Jonathan Fields, adult stem cell recipient and founder of the
Jonathan Fields Save a Life Heal a Heart Foundation
, dedicated to the advancement of adult stem cells for the treatment of heart disease.
The Alliance for the Advancement of Adult Stem Cell Therapy and Research's mission is to educate the public on the process and the benefits of non-controversial adult stem cell therapy, to promote the use of adult stem cells in the research and treatment of life-altering diseases and, lastly, to provide financial assistance to those who medically qualify and cannot otherwise afford treatment.
Contact:
Kelly Drouin
The Alliance for the Advancement of Adult Stem Cell Therapy and Research
Phone: (888)663-9974
Email: KellyDrouin@thestemcellalliance.org