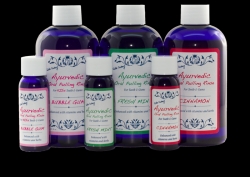 Los Angeles, CA, March 28, 2014 --(
PR.com
)-- Dale Audrey® R.D.H. Ayurvedic Oral Pulling Rinse " Now Cleansing the Country"
A modernized version of "Oil Pulling" is now available.
Owner of Oral Fitness Inc, Dale Audrey R.DH., is glad to see that Oil Pulling is becoming popular (The Ancient Ayurvedic philosophy).
Dale Audrey® R.D.H. Oral Pulling rinse has been on the market and sold nationwide for years. Finally, people are reading about its benefits for optimum oral care.
The unique proprietary formula, by Dale Audrey R.D.H., is beneficial whether you swish it for 30 seconds, one minute or twenty minutes. So you can have amazing results and not use just plain oil for twenty minutes.
Dale Audrey® Ayurvedic Oral Pulling Rinse is enhanced with Herbs and extracts (Neem, Myrrh, Clove oil, Oil of Oregano). It even comes in 4 great flavors. Making it extremely palatable.
Available in: Mint, Cinnamon, Ginger & Bubble gum. (48 swishes. 8oz)
At Oral Fitness Inc, Dale Audrey's mission, is to provide the most effective, affordable products and teach the importance of Oral Health.
"Our products are incredible, not only are they unique they are quite effective. I consider myself the biggest skeptic, If I don't see results clinically, I don't believe just anything. Being the daughter of a periodontist, and a dental hygienist for over 30 years, I have seen it all and try to prevent what I have seen," said Dale Audrey.
Dale Audrey's philosophy is simple: If you use the right product, the right tools with proper instruction, you can save yourself unnecessary costly, painful dental procedures, and achieve a life healthier life.
The Dale Audrey® R.D.H. entire Natural product line, can also be found on her website and in fine retail stores nationwide.
The innovative line is continually growing so stay tuned for more exciting news on her amazing products.
www.daleaudrey.com
www.white2nite.com