Uniform Advantage Goes Hollywood
One of Uniform Advantage's print scrub tops made a star appearance with Cate Blanchett, Oscar winning actress in the highly acclaimed Blue Jasmine Movie that aired last year in July 2013.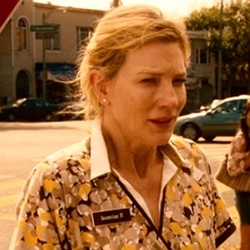 Plantation, FL, April 07, 2014 --(
PR.com
)-- Cate Blanchett won an Oscar for Best Actress in her performance in Blue Jasmine, filmed in August 2012. The budget for the film was $18 million and it grossed around $95 million worldwide.
Cate Blanchett plays the character of Jasmine French, a New York socialite with a wealthy lifestyle. Her marriage and entire life fell apart when her husband's deceptive business practices came to light. With no one to help her, single and broke, she moves in to live with her estranged sister, Ginger, in San Francisco to get back control of her life. At this point, she is unstable mentally and emotionally and in putting her life back to pieces, she gets a job unwillingly as a receptionist in a dental office.
Her work wardrobe included Uniform Advantage's Mix It Up Cougar mock wrap scrub top from their Butter-Soft collection. "Mix It Up Cougar" was designed to resemble a cougar's spots. The style included the side drawstring tie and was 55/45 cotton poly blend. It was part of Uniform Advantage's Spring/Summer 2012 lineup and featured fashionable shades: coffee bean, cougar and pineapple. The mock wrap scrub top featured a trendy geo print that was the "in" style two years ago and still is today.
Uniform Advantage is constantly designing a wide variety of fresh and stylish
printed designs
for their exclusive UA Uniform collections, the number one place for scrubs and all of your nursing uniform needs. For more information about these different styles and colors they offer, please visit www.UniformAdvantage.com.
About Uniform Advantage
Uniform Advantage is a leading retailer of scrubs and medical uniforms. Founded in 1985, the company operates out of Plantation, Florida and ships from their distribution center near Atlanta, Georgia. It has grown to include 29 scrubs stores located in key cities across the US and Canada, a catalog division and an entity dedicated to the online market.
For more information and to view their garments, visit the Uniform Advantage web site at
http://www.UniformAdvantage.com
or call 800-283-8708.
Contact
Uniform Advantage
Lori Nadeau
954-626-2100
www.UniformAdvantage.com
Direct (954) 626-2430

Contact