The Feed You Need at a Price You'll Love in Sun Roads Farmory's Pasture in a Box Systems
With water shortages and inclement weather ravaging our country, Sun Roads Farmory is pleased to offer an alternative feed source to keep your herd healthy and happy. Sun Roads systems produce feed with a very constant quality! This gives the producer the ability to provide a consistently high nutrient, 100% organic green feed to their animals regardless of weather or market conditions. All of this comes with an exciting, added bonus: using this feed system can cut your feed costs by half!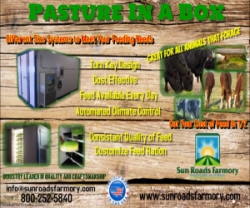 Cut Bank, MT, April 04, 2014 --(
PR.com
)-- Sun Roads Farmory takes pride in the quality and artisanship put into each feed system produced. Sun Roads Farmory has not become an industry leader by accident! Their systems are not just average growing containers, but are expertly designed to produce high quality, highly nutritious feed for years to come. Sun Roads Farmory will not place their name on anything that does not meet the highest of standards!
Sun Roads Farmory has been providing high quality feed systems to livestock and pet owners for over 10 years. They focus on the customers' needs and the quality that they desire. Now, after 19 years of research and development, Sun Roads Farmory has branched out to provide top quality, turnkey alternative feed-growing systems.
Sun Roads Farmory now has a second manufacturing plant in Crossville, Tennessee, to serve their customers in the Eastern part of the U.S.
Customer Testamonials:
Vicki R. from Southern Arizona: "My horses have never looked this healthy ever, and my cost of feed has gone down dramatically."
Rosa C. from Central Colorado: "Just wanted to drop you a line and tell you that the horses love the biscuits!"
Steve K. from Northern California: "I have various animals from pigs, cows, to chickens and they all love the feed. The pig meat taste is amazing."
Terry T. from Washington: "I have been racing horses for a number of years now, and my horses are running better than they ever have with the sprouted grains being a large portion of their daily feed ration."
Doug P. from Central Ohio: "I have been raising a purely organic beef program and I have achieved a 5 star rating, which is the highest you can get using the fodder and good management. I supply to the local meat shop in town. It really sells fast when people know who raised it and how. I have had more people come back and inquire about the flavor and tenderness of my product. The beef has little edge fat to trim away and has little flecks of marbling throughout."
Contact
Sun Roads Farmory
Ron Doore
800-252-5840
www.sunroadsfarmory.com

Contact
Multimedia
Sun Roads Farmory has various sizes of systems available to meet your feeding needs. Sun Roads Farmory also designs and builds custom size systems per your request.