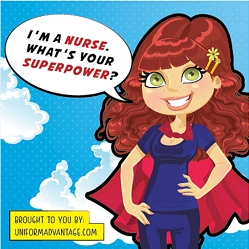 Plantation, FL, May 01, 2014 --(
PR.com
)-- In the U.S., at least 5 million nurses will be honored during National Nurses Week this year. This distinguished body includes Licensed Practical Nurses (LPN) or Licensed Vocational Nurses (LVN), Registered Nurses (RN), Nurse Anesthetists, Midwives and Nursing Assistants. Uniform Advantage's theme for Nurses Week is "Celebrate the Superhero in You." Lori Dunlap, VP of Marketing said "Nurses Week is very special to us and for 2014's celebrations, we wanted to do things differently this year and create several avenues to appreciate our customers. They work long hours and go all out for their patients and we wanted to love on them in many ways as possible."
Their Super Nurse campaign includes a unique Superhero designed scrub top and accessories, a "Just for Nurses" section on their website that includes dedications in the form of a super nurse Infographic, humorous postcards and muses for their customers. In addition to this, they will also feature a 20% off savings on select medical uniform brands.
Their Nurses Week scrub collection is featuring a Super Nurse Navy unisex scrub top for men and women as well as a Super Nurse scrub jacket and surgical cap for women. The fabric is 55/45 cotton/poly in navy blue, and the superhero prints are in red, yellow and white. The messaging includes statements like "Superhero in Scrubs," "Nurse Power to the rescue," "Achievers," "Healers" and "Unstoppable."
The
Super Nurses Infographic
design celebrates nurses' qualities and their contributions in a highly desired but challenging profession. Nursing postcards were created so that nurses can share on their favorite social media platforms with messages like "I'm a Nurse. What's your superpower?," "Keep Calm and Nurse On" and "They may forget your name. But they will never forget how you made them feel. By Maya Angelou" to name a few. Nursing poems were also created to honor them for their compassionate and caring ways and their resilience in a tough profession.
The healthcare profession is a consumer of multiple dynamics in a high pressured, highly regulated and monitored environment. Despite this, nurses are dedicated, loyal, compassionate individuals who touch patient's lives in extraordinary ways. They work tirelessly in an ever-growing profession where the supply is not keeping up with the demand. Uniform Advantage honors and thanks all nurses for giving of themselves unconditionally. Have a fantastic week and Happy Nurses Week 2014!
About Uniform Advantage
Uniform Advantage is a leading retailer of scrubs and medical uniforms. Founded in 1985, the company operates out of Plantation, Florida and ships from their distribution center near Atlanta, Georgia. It has grown to include 30 retail stores located in key cities across the U.S. and Canada, a catalog division and an entity dedicated to the online market.
For more information and to view their garments, visit the Uniform Advantage web site at
http://www.UniformAdvantage.com
or call 800-283-8708.