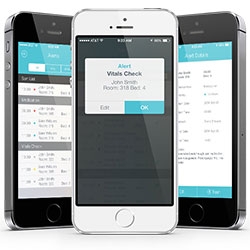 Toronto, Canada, May 15, 2014 --(
PR.com
)-- Shift Alerts, a mobile app designed specifically for nurses, personal support workers and other caregivers officially launches its iOS app just in time for Nursing Week 2014.
Shift Alerts makes work easier for caregivers by enabling them to track all patient-related reminders in one app, designed by and for healthcare professionals just like them. Interventions such as medication, vitals checks, patient hygiene or new custom interventions can be easily scheduled with just a few taps. The goal of Shift Alerts is to replace the conventional "pen & paper" method of tracking patient-related tasks, and take advantage of the latest technology to receive timely alerts and reminders to help deliver the highest quality of care as efficiently as possible.
"When you create useful tools for caregivers, everybody wins. Caregivers can do a better job if able to leverage technologies developed specifically for their roles. The end result is less stress for the healthcare professional and ultimately better patient care. Caregivers are already under a tremendous amount of pressure to consistently perform at high levels while ensuring patient privacy, security and safety, yet few tools exist to support their unique workflows," said CEO and co-founder Lidia Sienkowska.
With Shift Alerts, users can schedule patient reminders for their current or future shifts. Clicking "Start Shift" automatically deploys alerts at the beginning of the shift and "End Shift" automatically silences them. Users can also add notes to their reminders.
"The simplicity of Shift Alerts is the key. As a nurse and preceptor I wanted to find a way to help all nurses become most efficient with time management and organizational skills. Technology is limited in our work environment and I am motivated to shape the use of technology within healthcare. Nurses are constantly re-prioritizing care amongst many other demands while on duty. Shift Alerts allows the nurse to easily manage workload and at best means more time for the nurse to deliver quality care while maintaining therapeutic nurse-client relationship," added Victoria Rochford, co-founder and Registered Practical Nurse.
Shift Alerts had an initial soft launch in April at the Apps For Health and Education conference and at the first ever Ontario Personal Support Worker Association conference held at Mount Sinai Hospital in Toronto, ON. On May 2-4th, the Shift Alerts team also took part in Toronto's first Paediatric Hackathon, hosted by Hacking Health at Sick Kids Hospital in Toronto, as sponsors and mentors.
App Features:
- App is passcode protected
- Start/End Shift options to turn alerts ON and OFF
- One tap alert summary
- Sort reminders by Time, Patient, Intervention, Priority
What's Coming Up:
From June 1st-3rd, the Shift Alerts team will be in Vancouver for the annual eHealth conference and will be part of the Hacking Health Vancouver event, as both sponsors and mentors.
June 3-6th the team will be in San Francisco at the Apple Worldwide Developer Conference and will be participating in various associated mHealth meetups.
What's New with the Team:
They have a new Advisor to Shift Alerts entrepreneur, healthcare and marketing veteran Giancarlo De Lio.
Shift Alerts is free to download on the Apple App Store.
To connect, visit shiftalertsapp.com or follow Shift Alerts on Twitter: @ShiftAlerts.
Shift Alerts was developed and is managed by mHealth Standard Corp., a group specializing in bringing novel mobile health solutions to market.