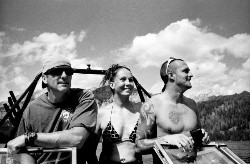 Vienna, VA, May 29, 2014 --(
PR.com
)-- In the aftermath of Post-911 conflicts, more than 650,000 service members are returning home with disabilities that will require continued care. An integral aspect of this care provision lies in finding healthy alternatives to pharmaceutical interventions. A Call To Action is needed Now.
Nearing the closure of the longest wars in US history, disparity in quality of care for Our Military Family (service members, veterans, and families), has become a growing concern in the US. With recent news about VA scandals, homelessness, addiction, unemployment, divorce, and 22 veterans a day committing suicide, this issue has become more apparent than ever. As our government continues to be tied up in indecision, growing demands, and bureaucracy, the responsibility of caring for Our Military Family falls on the private sector.
As the number of returning veterans increases, we continue to learn about the value of adaptive recreation organizations serving veterans and their families to help successful community reintegration. To ensure the highest quality services in meeting the needs of Our Military Family, R4 Alliance (a 501c3 non-profit organization) has launched a collaborative outreach initiative to promote organizations with the highest standards.
Answering the call to action by former Chairman of the Joint Chiefs of Staff Admiral Mullen and the Office of Warrior and Family Support, R4 Alliance has stepped forward to provide a collaborative approach that enhances research, training, and standards of excellence through focused therapeutic and community recreation programs. This collaboration allows R4 Alliance to bring a wealth of knowledge and capability in meeting the growing needs of veterans and their families.
"Uniting our efforts to draw strongly on the 'best of the best' collective knowledge provides the opportunity to make real changes. We need to provide research, education, and care for our veterans that drives positive change in government and healthcare to better meet the needs of our current veterans, and enhance veterans' care in the future," said R4 Alliance Executive Director Chuck Steele
Maximizing the Healing Power of Nature and Recreation for Our Military Family, R4 Alliance members, affiliates, and strategic partners work collaboratively to meet the following objectives:
· Create and utilize collaborative Research and evaluation tools that provide a substantial evidence base to: advocate recreation as a crucial component to health and wellness, disseminate findings through the medical community, and provide protocol for individualized client treatment plans
· Serve as a nationally recognized alliance of service providers promoting Standards of Excellence to regulate recreation service provision to Our Military Family nationwide
· Provide information sharing systems facilitating communication between service providers necessary for a collaborative Continuum of Care needed for the highest quality of service provision
· Establish Education and Training guidelines to facilitate the distribution of shared experience and knowledge across the service providers.
· Enhance funding and Economic Viability through creative private sector fundraising initiatives and private and public grant writing applications.
Bert Gillette, R4 Alliance Director of Programs and Outreach, states, "R4 Alliance founding members joined forces to overcome these barriers. Our collective experience and combined knowledge grows with every program of excellence that joins. R4 Alliance addresses objectives too large for any one organization to tackle alone. However, united our voices become a veritable force."
Collectively, R4 Alliance membership has served more than 95,000 members of Our Military Family. That number continues to grow weekly, as does the membership roster. At this time, R4 Alliance can claim an incredible mix of experience and talent to include: Higher Ground, Team River Runner, Northeast Passage, Project Sanctuary, Project Healing Waters Fly Fishing, Operation Game On, Ride 2 Recovery, Eagle Rock Camp, Honor House, the Sierra Club, TERROS Advancing Heroes Project, Georgia Aquarium's Veterans Immersion, World T.E.A.M. Sports, Semper Fidelis Health and Wellness, Healing Our Heroes Project, Hope for the Warriors, Equest Hooves for Heroes, Soldiers to Summits, Operation AMPED, Leaps of Faith Adaptive Skiers, and Combat Veterans to Careers.
R4 Alliance is currently seeking strategic partners, volunteers, donors, and sponsors to continue national expansion and outreach. To learn more about how to join and/or support R4 Alliance visit
www.r4alliance.org