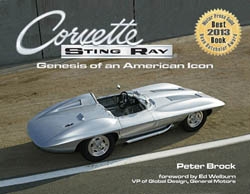 Henderson, NV, May 30, 2014 --(
PR.com
)-- Professionals and enthusiasts alike rate Peter Brock's insider story as a must-have.
Bob Cumberford: GM Designer on the first Corvette, the C1
"With admirable modesty Brock recounts exactly what happened in the long arduous process of creating the second-generation Corvette, the car that assured the continued existence of America's sports car. He neither embellishes nor understates his own role. As a participant in the struggle to keep Corvette alive even before Peter was hired in to GM Styling, I can state from personal experience that he tells the true story of those times. The writing is graceful, unobtrusive and highly informative. Among the small number of people actually present and engaged in the day-to-day activities that kept it all going, Peter was vitally important, far more than he suggests in this excellent work. We can all be glad that the truth is presented now, by one of the few who lived it."
John C. Preston - owner of a '67 big block Corvette for 22 years
"I ordered this book after watching the Peter Brock interview by Jay Leno on YouTube. I have most of the Corvette books and DVDs and am a member of NCRS. I found Mr. Brock's book to be unique and informative, particularly with regard to the evolution of the C2/Stingray. In addition, I found the photographs to be very interesting. I do not recall seeing any of them in other publications. I think Mr. Brock's book is a vital resource for anyone that wants to learn more about the development of the C2 Corvette, and I highly recommend it."
Stan Mott: GM Designer mid '50s
"If you've been looking for the ultimate Corvette Sting Ray book, this is it. Sting Ray designer Peter Brock holds nothing back. He starts at the beginning, how Harley Earl, GM creator of mass automobile styling, saw the potential of an American sports car back in the early '50s and introduced the Corvette as a "show car" in the 1953 General Motors Motorama. He tells how GM president bean-counter Harlow Curtis fought its development, how GM's Bill Mitchell went underground with its development, and how it finally blossomed into an American icon.
"Of particular interest to me, as an ex-GM designer, is Brock's descriptions of the inner workings of the Sting Ray's design process. Mitchell, the driving force behind the Sting Ray from beginning to end, always asked us designers 'Got something hot, kid?' And it was a drawing by Brock that defined just what Mitchell had in mind to finally produce--creating one of the greatest American automotive icons. If you love the Corvette Sting Ray, you'll love this book."
David Rodríguez Sánchez - Corvette Enthusiast
"Just to see all the incredibly nice and most interesting drawings that Peter Brock elaborated for this mythical sports car during its design process decades ago was like fanciful dreaming until now. To learn all about what Peter Brock still keeps in his mind and heart from those years is such an unexpected gift. My most sincere congratulations for such a beautiful and most informative book. I do not think there's anything like this in the market regarding most of the cars one falls in love with. Luckily, BRE took a marvelous initiative to vindicate a piece of history which otherwise would go lost for all car design and sports car enthusiasts. I absolutely recommend this book; I am enjoying each and every square inch of it."
Mike Anderson - owner of a '63 split window Corvette Sting Ray
"No other automotive book has ever mesmerized me like this book. The drama of corporate America with the distinctive personalities of the leading auto authorities of that time was like I was there dealing with their issues. The books timeline was excellently written by the author and the many unseen photos were absolutely fabulous! This book isn't only for Corvette owners/collectors. Any person that is a car guy would love this book. Historian of automobiles would also appreciate this book with the early car designs that inspired the cars of today."
Randy Leffingwell - Author of numerous books on the history of the Corvette
"Reading this book is just like having a conversation with Peter. These are the words of the man who sketched in the design studio, who fell silent in the presence of Bill Mitchell, who followed directions, who created the legend, and who worked alongside the rest of the team that made their own contributions as well. Brock is objective and fair, giving credit to his colleagues. This book - along with Jerry Burton's biography of Zora Duntov - and James Schefter's illuminating All Corvettes Are Red - sits at the top of the "Essential Reading for Corvette Enthusiasts" book shelf. He calls the book a Genesis of an American Icon. I'll go further and add: Written by an American Design Icon."
Entirely Made in the USA, the book "Corvette Sting Ray: Genesis of an American Icon" is available directly from
BRE at bre2.net
or their stores at ebay.com or amazon.com. It can also be found at brick and mortar automotive bookstores around the world such as AutoBooks in Los Angeles, Pasteiners in Detroit, Transport Books in Toronto, Chaters in London and specialty Corvette websites such as Corvette Central (corvettecentral.com) and the National Corvette Restorers Society (ncrs.org).
Brock Racing Enterprises is a privately held company, founded by Peter Brock in 1965. For more information, or photos, contact BRE at 702-558-3374 or info@bre2.net.