Odyne Systems, LLC Showcased Plug-in Hybrid Systems on Early DOE Award Trucks at 2014 EUFMC
Vehicles Are Among the First of 120 to be Delivered in 2014 Under $45.4 Million DOE Award.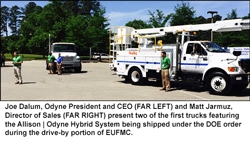 Waukesha, WI, June 11, 2014 --(
PR.com
)-- Odyne Systems, LLC, a leading manufacturer of hybrid systems for medium and heavy duty work trucks and winner of the NTEA 2013 Green Truck Award, showcased its advanced plug-in hybrid propulsion system at the Electric Utility Fleet Manager's Conference (EUFMC) in Williamsburg, VA June 1-4. The company spotlighted two of the first trucks being delivered as part of a $45.4 million U.S. Department of Energy (DOE) funded project that includes an award for over 120 Odyne hybrid system equipped trucks. Attendees learned about the significant fuel savings and emission reductions of the plug-in hybrid vehicles while also hearing the quiet stationary operation of the truck mounted equipment and hybrid system.
Joe Dalum, Odyne President and CEO, noted following the product drive-by session Monday, "The Odyne hybrid system helps reduce fuel consumption and emissions while allowing large trucks to operate quietly at a work site. Unlike idle reduction systems limited to providing jobsite energy, the Odyne system improves fuel efficiency during both driving and stationary operations, while also allowing eligible fleets to obtain EPAct credits. Allison Transmission, Inc. has globally endorsed the use of 3000 and 4000 Series transmissions with the Odyne hybrid system as the exclusively-approved PTO-based hybrid system. The Odyne system helps vehicles to accelerate and use the advantages of the robust Allison transmission. Odyne has introduced new smart charging to interface with smart grid infrastructure, new 6 kW export power expandable to 18 kW or higher to help replace truck mounted generators and Odyne provides fleets with greater flexibility by allowing the use of one hybrid system for a wide variety of equipment and truck chassis. 2014 is an exciting year for Odyne and customers throughout the country as Odyne builds and delivers over 120 plug-in hybrid systems for trucks under a Department of Energy Award being administered by the South Coast Air Quality Management District (SCAQMD), with support from EPRI, the Electric Power Research Institute."
The Odyne system interfaces with Allison Transmission's industry leading fully-automatic transmissions and uses a rugged Remy electric motor in parallel with the existing drivetrain to provide launch assist and regenerative braking. At the job site, the Odyne hybrid plug-in battery system, featuring Johnson Controls' lithium-ion battery packs, powers typical work site applications with the engine off for a significantly longer time than other commercially available large truck hybrid systems.
About Odyne Systems, LLC
Odyne is a leader in hybrid drive systems for medium and heavy-duty vehicles. Odyne's advanced plug-in hybrid technology enables trucks over 14,000 pounds to have substantially lower fuel consumption, lower emissions, improved performance, quieter job site operation and reduced operating and maintenance costs. Odyne has fielded more plug-in hybrid systems for large trucks throughout the United States than any other supplier. Odyne systems are modular and are integrated to powertrains during the new vehicle manufacturing process or are retrofit to existing truck chassis in various applications. The systems are sold and serviced through a worldwide distribution network including Altec, DUECO and Terex Utilities. Odyne has also authorized selected Allison Transmission distributors to service Odyne systems across North America. For further information, visit us at
www.odyne.com
and follow us on Twitter @Odyne.
About Allison Transmission
Allison Transmission (NYSE: ALSN) is the world's largest manufacturer of fully automatic transmissions for medium- and heavy-duty commercial vehicles, and is a leader in hybrid-propulsion systems for city buses. Allison transmissions are used in a variety of applications including refuse, construction, fire, distribution, bus, motorhomes, defense and energy. Founded in 1915, the company is headquartered in Indianapolis, Indiana, USA and employs approximately 2,700 people worldwide. With a market presence in more than 80 countries, Allison has regional headquarters in the Netherlands, China and Brazil with manufacturing facilities in the U.S., Hungary and India. Allison also has approximately 1,400 independent distributor and dealer locations worldwide. For more information, visit www.allisontransmission.com.
About SCAQMD
The SCAQMD is a regional air pollution control agency in California, with jurisdiction that includes Orange County and the urban portions of the Los Angeles, San Bernardino and Riverside counties. For more information, visit www.aqmd.gov.
About EPRI
The Electric Power Research Institute, Inc. (EPRI, www.epri.com) conducts research and development relating to the generation, delivery and use of electricity for the benefit of the public. An independent, nonprofit organization, EPRI brings together its scientists and engineers as well as experts from academia and industry to help address challenges in electricity, including reliability, efficiency, health, safety and the environment. EPRI's members represent approximately 90 percent of the electricity generated and delivered in the United States, and international participation extends to more than 30 countries. EPRI's principal offices and laboratories are located in Palo Alto, Calif.; Charlotte, N.C.; Knoxville, Tenn.; and Lenox, Mass.
Contact
Odyne Systems, LLC
Louise Hermsen
262-544-8405
www.odyne.com

Contact