Dallas Buds Develop Free Name-That-Lyric App
Music fans go head-to-head on Lyrics With Friendz' musical challenges.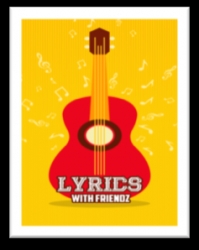 Dallas, TX, June 13, 2014 --(
PR.com
)-- A couple of years ago, Blake Holmes and Craig Frankel couldn't get enough of a popular car commercial featuring people belting out their own zany versions of that tricky lyric from Elton John's "Rocketman." So what else were two golfing buddies to do but team up to create an app based on its hilarity?
Holmes, a Plano resident, and Frankel, from Frisco, are the creators of
Lyrics With Friendz
, a free phone app that allows users to go head-to-head with one another for three timed rounds of fill-in-the-blank lyric challenges. For each round, a portion of a song is played and the player finishes the line by plugging in the next lyric on his or her phone.
Developed through Frankel and Holmes' company, Igolf Productions LLC, LWF also allows users to guess the artist from the song in another challenge round. From Ozzy Osbourne to Avril Lavigne, Lyrics With Friendz features nearly 1,500 titles by popular Rock, Top 40, Hip-Hop, R&B and Country singers and bands. It's like Wheel of Fortune for music fans, Holmes said.
"That commercial just made us laugh every time we saw it. It's hilarious when we make up words to lines we can't quite make out – everyone does it," Holmes said. "We were texting each other our own puzzling song lyrics and it sort of became this game for us to see who could get them right. We started with 80s hair bands since we're from that generation and we got such a kick out of it that we figured there's plenty of others out there who would have fun with it, too."
The app took roughly 18 months to develop and today has a fan following of 110,000 users, who can opt to play against Facebook friends or random opponents.
"This game is for anyone who loves trivia night, has a devout love for music or who is just looking for a fun challenge. Some of the rounds can be tough and can really stump you," said Frankel. "It's great to play with a few buddies so you can throw out ideas as a team. You'd be surprised how much you start to question your own knowledge of your favorite song!"
Lyrics With Friendz can be downloaded on
iTunes
. For more information, visit the Lyrics With Friendz page on Facebook.
Contact
iGolf Productions LLC
Ladd Biro
972.930.9933
https://itunes.apple.com/us/app/lwf/id714962636?mt=8
Champion Management is proud to be the Public Relations Agency of Record for Lyrics With Friendz.

Contact