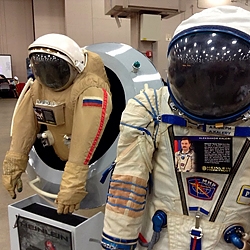 Tucson, AZ, June 17, 2014 --(
PR.com
)-- Television host and meteorite expert Geoff Notkin will be at Challenger Space Center Arizona on Saturday, June 28 to unveil several new pieces being added to his exhibit, "They Came From Outer Space." The event is set for 12 p.m. local time in the main exhibit space at the Center, located at 21170 N. 83rd Avenue in Peoria.
Notkin, a global adventurer and world-renowned meteorite expert, starred for three seasons on the Science channel television series "Meteorite Men" and now hosts the educational program "STEM Journals" on Cox 7 Arizona. His appearance at Challenger Space Center will include an informal meet-and-greet with visitors following the installation of the new exhibit items.
"They Came From Outer Space" features meteorites, costumes, props, and equipment from Notkin's personal collection, including over 100 meteorites, many found while filming "Meteorite Men" around the globe. Also on display are educational posters, tools used for meteorite hunting, and Notkin's original wardrobe and field gear from "Meteorite Men." Since opening in October 2012, the exhibit has been toured by thousands of visitors, including seven U.S. astronauts.
The new additions to the exhibit include four authentic space suits and a lunar meteorite, all being loaned for display from the Heinlein Prize Trust. Lunar meteorites are actual pieces of the moon that fall to Earth's surface. Scientists are able to determine their origin by comparing them to rock samples collected by Apollo astronauts on the moon.
The four spacesuits being placed in the exhibit include a NASA Launch Entry Suit worn by former astronaut and current NASA Administrator Charles Bolden, a Sokol space suit worn by NASA Astronaut Dr. Edward Lu aboard the Russian Soyuz spacecraft, and a Sokol space suit shell.
In addition, visitors will enjoy a special photo display stand which incorporates a genuine Orlan space suit used by cosmonauts in the Russian Space Program. The display allows visitors to step into the suit and take pictures. The suit itself, including helmet and gloves, is over 30 years old and is an actual piece of space history.
"They Came From Outer Space" will be on exhibit at Challenger Space Center Arizona through October 4, 2014 and is included with paid general admission. However, the items on loan from the Heinlein Prize Trust will only be on display for one month. Visit www.theycamefromouterspace.com for additional details about the exhibit.
For more information on the Heinlein Prize Trust, visit http://www.heinleinprize.com.
For interview requests with Geoff Notkin, contact Becca Gladden, Director of Public Relations at limelightwriting@aol.com or 623-510-6554.
Source: Aerolite Meteorites Public Relations
About Geoff Notkin: A television host, professional meteorite hunter, science writer, photographer, and owner of Aerolite Meteorites, Geoff starred for three seasons on Science Channel's award-winning TV show "Meteorite Men," and now serves as host of the TV series "STEM Journals" on Cox7 Arizona. He has also made documentaries for National Geographic, Discovery, PBS, BBC, History Channel, A&E, and Travel Channel. He has written more than 150 published articles on meteoritics, paleontology, adventure travel, history, and the arts. The minor planet 132904, discovered at Mount Palomar, was named "Notkin" and approved by the Minor Planet Center in recognition of Geoff's contributions to science and education.
About The Heinlein Prize Trust: The Heinlein Prize® honors the memory of Robert A. Heinlein™, renowned American author. The purpose of the Heinlein Prize is to encourage and reward progress in commercial space activities that advances Robert and his wife Virginia's dream of humanity's future in space. Efforts include: the Heinlein Prize for Accomplishments in Commercial Space Activities, the Microgravity Research Competition, the Heinlein Commercial Space Activity Prize, Flight into the Future international contests and the online Heinlein Archives.