Teamwork Solutions Wins Big at CajunCode Fest 3.0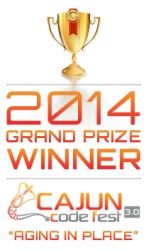 Lafayette, LA, June 24, 2014 --(
PR.com
)-- Teamwork Solutions Group won the $10,000 Grand Prize at the 2014 CajunCodeFest 3.0 held by the Center for Business & Information Technologies (CBIT) at the University of Louisiana-Lafayette. The yearly two and a half day event showcases the best innovative solutions in coding to help transform healthcare solutions. The winners also receive an invitation to pitch at the Vault pitch competition.
This year was the first showing for Teamwork Solutions. Their concept named "Care" is an inventive approach to elderly people "Aging In Place" that combined hardware and software tools.
"Our idea was to have a few pieces of hardware that would send data to a central area that doctors and family could access," said Brian Martin, Lead Designer and creator of the Graphic Designers Blog. "This way, a doctor has a huge amount of relevant info about the patient to make a more informed diagnosis."
The contestants were given 27 hours to create a viable solution to a well-known issue regarding the topic, "Aging In Place." Teamwork Solutions chose to address the dilemma of seniors who need assistance with day-to-day activities, allowing them to live at home for a longer time rather than having to reside at an assisted living facility.
The program also allows sensors to be installed in the home to monitor patterns in gait, blood pressure, heart rate and weight. The sensors are accessible through a central login platform for the doctor and family to review information. Another advantage of this concept is the ability to hold video chat conversations between the patient and doctor, alleviating the need for trips to the doctor or vice versa. Family members can also monitor the condition of the patient by logging on to the system and enabling the video chat feature to keep the lines of communication open with their loved one.
More information about the entry and innovative concepts from Teamwork Solutions can be accessed at
www.winwithteamwork.com
.
Teamwork Solutions Group is a specialized team consisting of marketing strategists, program developers, e-commerce analysts, copywriters, and technology specialists who work as a unit to devise uncommon results.
Contact
Teamwork Solutions Group
Ian Sorensson
337.456.3300
www.winwithteamwork.com

Contact