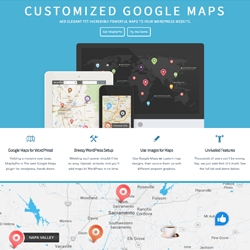 Cincinnati, OH, July 01, 2014 --(
PR.com
)-- MapifyPro - one of the many startups emerging as of late from Cincinnati, Ohio - has proudly announced a new WordPress plugin that they've titled PrettyRoutes. Yes, they seem to be fond of mashing two words together and randomly capitalizing in order to form a new word. Go Internet!
PrettyRoutes is a WordPress plugin that truly enhances Google Maps, but it goes further by providing meticulous control over the aesthetics and customization of handcrafted routes. The concept is seemingly a simple one: Draw line on Google Map. Connect Line. Done! In practice however, this new software becomes rather sophisticated in its ability to create customized tours that beg to be explored. Adding a new route is as simple as double clicking, setting the color of each route, and tweaking each turn along the way, since the routes can be plotted on road or off. However, the software also allows complete control over the content within the tours. Though PrettyRoutes is a standalone plugin, when combined with MapifyPro (the core product), one can create a robust guided tour that walks the user through each location, adding extensive details, photos, and sharing capabilities to any point in the journey. Further, each point of interest can be filtered by category, displaying specific results such as restaurants, bike paths, activities, and so on. Suddenly a series of colorful lines on a Google Map is filled with location-based details, directions, route distances, restaurants, landmarks, videos, blog entries, and more.
Josh Sears, owner of MapifyPro and the new PrettyRoutes software, says that the plugin was created through a collaborative process with his customers. "I took a sort of Kickstarter-inspired method while developing this software," says Josh. "I really wanted to work alongside real customers who work with maps everyday in order to promote their products. My developers and I would take feedback, process it, and review the outcome with a few dozen users, and there's no doubt that this software is better because of it."
With positive reviews pouring in across the net, Josh seems to be right in his assessment. Though MapifyPro is a fledgling startup with less than a year at market, it boasts thousands of customers, and the community aspect is starting to fill in nicely. Joe Watts, a user of both MapifyPro and PrettyRoutes, corroborated Josh's sentiment of a community-driven development environment in his online review, an excerpt that reads: "MapifyPro, along with PrettyRoutes, is a perfect combination for my requirements. Both allow for more aesthetics in terms of map appearance and control of the content within. The plugins are integral to several tourism and travel-related projects I'm involved with, and I anticipate using them for additional projects in the future. Response time for support has been outstanding and ideas for improving the plugin have also been taken into account along the way."
WordPress is the foundation for nearly 25% of all websites on the Internet, a staggering number indeed. Of those sites, countless users are in need of more control over Google Maps, whether for presenting tours, bike routes, store locators, or simply to just make it all look better… or shall we say prettier? MapifyPro and the shiny-new PrettyRoutes software look positioned to be that exact solution as they strive to provide complete control over Google Maps and beyond.
The PrettyRoutes Pro version is on sale now for $30, or $65 when bundled with MapifyPro.
About MapifyPro: MapifyPro was designed and developed by PaperTelevision LLC. PaperTelevision was founded in 2005 with the inspiring if nonspecific goal of making awesome websites and apps. Since then they have helped people turn their ideas into a digital reality and have worked on a lot of stuff that is, as it turns out, pretty awesome indeed. Find out more about MapifyPro, play with the demo showcasing all of MapifyPro's great features, or purchase the software itself by heading to mapifypro.com.
MapifyPro &PrettyRoutes – products of PaperTelevision LLC
3549 Mourning Dove Woods
Franklin, OH 45005
Find Out More: www.mapifypro.com
More about PrettyRoutes