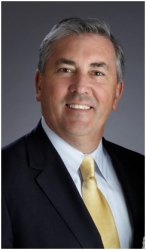 Uniondale, NY, July 02, 2014 --(
PR.com
)-- Evan H. Krinick, Managing Partner of Rivkin Radler LLP, announced today that Hon. Michael A. L. Balboni has joined the firm as Of Counsel. Mr. Balboni will be working to further serve the firm's clients as well as expand its services in the areas of cyber, financial and energy-related security, public safety, healthcare, and government relations.
Mr. Balboni served in the New York State Assembly for eight years until being elected to represent the 7th Senate District in 1997. Following the tragic days of September 11, 2001, Senator Balboni was appointed as the first Chairman of the Senate Homeland Security Committee. In this role, he led the enactment of nearly every anti-terrorism law in New York State, including the first chemical plant security law in the nation, the criminalization of acts of biological and chemical terrorism, water plant security, pet sheltering laws for disasters, and created the Office of Homeland Security.
In 2007, Mr. Balboni left the New York State Senate to become Deputy Secretary for Public Safety and Homeland Security Advisor for New York State where he managed an agency of 63,000 employees with a $5 billion budget and oversaw the creation of programs such as New York Alerts, the Critical Infrastructure and Suspicious Activity Reporting system for the State. He was the Governor's representative to the "Secure the City" program to create a ringed defense of nuclear and radiological detection systems around New York City. Having received extensive training and briefings on protecting critical infrastructure, he has used this information while serving as the security chair for the Lower Manhattan Development Corporation as he assisted and advised on the security for the rebuilding of the World Trade Center.
Mr. Balboni has served on transition teams for President Obama and Governor Cuomo. He is also a Senior Fellow with the Homeland Security Policy Institute (HSPI) at George Washington University and serves on the Spending and Government Efficiency (SAGE) Commission.
Today, Michael Balboni is the founder and managing partner of Redland Strategies Inc., a consulting firm that provides the expertise, experience, and contacts necessary to help companies and government agencies position themselves to get through a crisis, improve business performance, and maximize growth. He serves on several homeland security think tanks, as well as charitable boards dealing with public health. He is also a regular contributor as a terrorism expert on national and local television and print media.
Mr. Balboni is also the Executive Director of Greater New York Health Care Facilities Association, where he leads the Association in its government relations, labor negotiations, and political activities, as well as manages the operations of the Association.
"We are delighted to welcome Mike to Rivkin Radler," said Evan Krinick, Rivkin Radler's managing partner. "The combination of his experiences as a senator, public servant and business professional make him a wonderful addition to our firm. I know the clients of RedLand Strategies and Rivkin Radler will benefit from our new professional relationship."
"It is with great enthusiasm that I join Rivkin Radler, a firm with a long tradition of providing exceptional legal service to a wide variety of clients, and one whose professionals and alumni I greatly respect and admire as being among the finest legal practitioners."
Through RedLand Strategies, Michael Balboni has provided services to companies such as JP Morgan Chase, CSX Transportation, Phoenix Beverage, Raytheon, 3VR Security, FJC Security, TEI Group, Bethpage Federal Credit Union, Aliah Healthcare, County of Nassau, Town of North Hempstead, JFK International Arrivals Terminal, and Proteus on Demand, among others. In addition, he advises municipalities on matters ranging from emergency management to mass fatality planning, as well as crime lab operations.
Established in 1950, Rivkin Radler LLP is a regional law firm with offices in Uniondale, Long Island, Hackensack, New Jersey, and New York City. The firm is nationally recognized and ranks among the Top 70 Law Firms in New York State. For more information on the firm, visit
www.rivkinradler.com
.