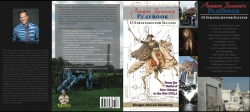 New Orleans, LA, July 15, 2014 --(
PR.com
)-- Taking a page out of his new book, "Andrew Jackson's Playbook: 15 Strategies for Success from the Battle of New Orleans to the New NOLA," author Morgan Molthrop has vowed to post his book in 200 installments: the first, started on the Fourth of July; the last will be on the January 8, 2015, the anniversary of the Battle of New Orleans.
The book centers around Jackson's strategies in bringing a diverse group of Creoles, free people of color, pirates, Tennessee militiamen, Choctaw Indians and Kaintucks (about 3,000 in total) to defeat a disciplined army of over 10,000 British troops.
"The victory was as important - and miraculous - as the recovery of the city after Katrina," says Molthrop. "As we approach the 10th anniversary of Katrina, one can't help make comparisons between the strategies used by Jackson 200 years ago and those used by contemporary civic and cultural leaders over the past decade."
The book's sidebars include interviews with local civic and business leaders including Michael Hecht from GNO, Inc., Mark Romig from the New Orleans Tourism & Marketing Corporation, Tim Williamson from Idea Village, Ron Bechet, a local artist, and Drew Brees, quarterback of the New Orleans Saints.
To view the serialization, go to www.facebook.com/andrewjacksonsplaybook
"I believe in transparency," says Molthrop. "People should know this story. And they can learn from the strategies. So when you do a small print run, all this bickering between the 'big boys' like Hachette and Amazon doesn't amount to very much. It's all on the shoulders of the author. For me and my contemporaries, we read in spurts, mostly online, and mainly through Facebook. So I chose this strategy and I believe I'm the first to really pursue this route. If people respond well to it, I've done something revolutionary. I think Jackson would like that."
The book will be in stores on Labor Day. The author will be giving lectures at book signings throughout the Gulf Coast. Molthrop is also the author of Artist Spaces (UL Press 2014) to be released in October. He is the Chief Creative Officer of Custom New Orleans, a local destination management company. To contact the author or get an advance copy of the book, email morgan.molthrop@gmail.com or call 504-657-6670.