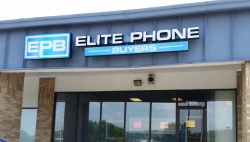 Springdale, OH, July 17, 2014 --(
PR.com
)-- Elite Phone Buyers, the #1 trusted local buyer of new, used and broken smart devices, is celebrating the grand opening of its first retail store at 11804 Springfield Pike from 1pm-4pm on Saturday, July 26th. The mayor of Springdale, Doyle Webster, will officiate the ribbon cutting ceremony at the event.
This new family owned and operated retail store offers a safe and convenient location for consumers, businesses, wholesalers and schools to bring their smart devices (smart phones, iPads, MacBooks and iMacs) to sell to Elite Phone Buyers. Refurbished phones are then re-sold on Elite Phone Buyers' eBay store.
The owners, Nathalie Mortine and Ben Chrisman, have had their set of challenges running the business, but have persevered through many hardships and are dedicated business owners. According to Ben, "We wanted to provide the people of Cincinnati a safer, easier and faster way to get paid for their smart devices instead of selling them to an online buyer or via Craigslist."
In order to participate in and give back to their community, Elite Phone Buyers recently formed phone donation program partnerships with two nonprofit organizations: the Habitat Restore and eWomen Foundation. They have also developed a similar partnership with the Oxford Chamber of Commerce. Nathalie notes, "I love creating partnerships with other companies, non and for profits, such as the Habitat Restore and the Oxford Chamber of Commerce to help them raise much needed resources for their organizations by collecting smart devices."
About Elite Phone Buyers
The Springdale, Ohio start-up company was founded on March 6, 2013 by Ben Chrisman and Nathalie Mortine. The business was crafted after Ben's brother's phone buying business in Phoenix, Arizona. Once the concept was developed, things took off pretty quickly and the business is ever changing and expanding as they move along in the process. Ben and Nathalie feel they are meeting a need that consumers want in our city, and are happy it also provides freedom and the ability to develop and expand a business they care about. Not to mention, they both love the flexibility and the challenge of owning their own business!
To learn more visit www.ElitePhoneBuyers.com or call 513.600.2243.
Contact:
Kelli Tarantino, President
Cincinnati Marketing Solutions
kelli@cincymarketingsolutions.com
513.300.4653