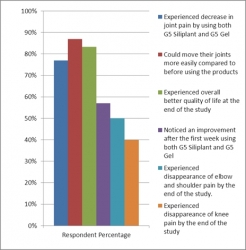 Miami, FL, July 17, 2014 --(
PR.com
)-- Silicium Laboratories introduces G5 Siliplant, the highest bioavailable silica product available today. Their product was created by the finest specialist in his field, Dr. Loic Le Ribault. G5 Siliplant provides the ideal amount and absorption of this essential mineral. The main component is monomethylsilanteriol, CH3 (SIOH)3, the most effective silica transporter and activator of other processes. This extra strength formula offers superior nutritional support and delivers numerous collateral benefits in terms of improved calcium absorption leading to stronger and denser bones, cartilage production, connective tissue flexibility, increased collagen & elastin production, higher tensile strength hair follicles, stronger finger & toenails, toxic aluminum elimination and improved nerve synapse (signaling) function.
Orgono G5 Siliplant is beneficial for health but essential for those people with joint problems, or those suffering from tiredness or the elderly. Silica forms part of phosphorus, magnesium and calcium metabolism. In the ossification process, silica is linked to calcium, making it essential for calcium absorption and utilization in bone. It benefits joint flexibility, cartilage regeneration, skin flexibility, and helps preserving hair and nails.
Silicium Laboratories has reformulated the Original Orgono Living Silica (G5 in Europe) to provide this Extra Strength version of the famous original product. The new Silicium G5 Siliplant is fully adapted to the latest European rules on food supplements and possesses a National Code of Pharmacy reference. Their product is FDA inspected as well. G5 Siliplant combines the benefits of silicic acid and Horsetail extract, a plant with a high content of crystallized silicon, which provides organic compounds (Equisetum arvense extract). With these ingredients and applying the methods of Dr. Loic Le Ribault, they achieve an organic soluble silica which is highly bioavailable with the same qualities of its famous sister product.
Silicium Laboratories sponsored an independent study in 2012 consisting of examining the effects of consuming Siliplant G5 and topically applying the G5 Silica gel over a six week period in a sample group of males and females aged 50 years and older who were experiencing various degrees of osteoarthritis. The results are shown in the chart attached.
Ingredients: Purified water, Silicic Acid, Horsetail plant silica extract, rosemary (as a natural preservative). Instructions: One tablespoon (15ml), per day. Siliplant G5 is safe, effective and well tolerated with no contraindications or drug interactions. There are 67.5 servings per 1000ml bottle. 67 days at 1 tablespoon per day. Packaging: 1000 ml (34 oz) bottle. Remains fresh for up to 6 months after opening and up to 3 years when unopened and sealed.
Read more at the company website including a detailed Silica Research Abstract itemizing the known benefits of silica.
Siliplant G5 is available direct from the manufacturer at orgonosilica.com or many Internet resellers including Amazon.com or at local supplement or health food store.