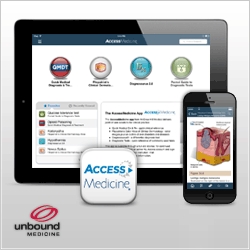 Charlottesville, VA, July 31, 2014 --(
PR.com
)--
Unbound Medicine
, a leader in knowledge management solutions for health care announces the availability of McGraw-Hill Professional's AccessMedicine App powered by the award-winning Unbound Platform. Now subscribers can download trusted resources to iOS and Android® smartphones and tablets and consult critical information on the go without an internet connection.
With the AccessMedicine App, McGraw-Hill Professional expands its relationship with Unbound Medicine to bring select content to institutional mobile users worldwide. Unbound, leveraging more than 15 years of mobile development expertise, manages app development and distribution; content design and loading; user authentication; digital rights; and back-end integration with AccessMedicine's web services provider. Many of Unbound's core platform capabilities are available within the app such as device-optimized interfaces, cross linking between resources, and app personalization – all features that have made Unbound's products highly rated within the healthcare professional community.
"McGraw-Hill Professional selected Unbound Medicine to power the AccessMedicine App to give our institutional customers the best possible mobile experience," said Scott Grillo, vice-president and group publisher, McGraw-Hill Professional. "Unbound's long experience serving institutional mobile users ensures our customers will be able to navigate the ever-changing mobile landscape with uninterrupted access to the information they need on a daily basis."
"We were pleased to extend our long-standing partnership with McGraw-Hill Professional to bring AccessMedicine content to the point of need," added Bill Detmer, MD, president of Unbound Medicine. "With AccessMedicine now downloadable to all popular mobile devices, clinicians and trainees can confidently find answers to the questions they confront in the course of daily patient care."
About Unbound Medicine
Unbound Medicine is a next-generation health care knowledge company. Unbound produces award-winning mobile and Web products for partners and health care professionals using its end-to-end digital publishing platform and information architecture expertise. Additional information is available at
www.unboundmedicine.com
.
About McGraw-Hill Professional
McGraw-Hill Professional is a leading global provider of content and services for the science, technical, and medical communities. It is home to the Access line of fourteen educational and clinical digital platforms, including AccessMedicine, the world's leading and most-trusted online medical resource. McGraw-Hill Professional is the publisher of landmark references including Harrison's Principles of Internal Medicine and Current Medical Diagnosis and Treatment, the world's number one selling annual medical book. For more information, visit
http://www.mhprofessional.com/medical
.