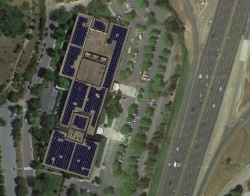 Novato, CA, August 05, 2014 --(
PR.com
)-- The solar photovoltaic system is roof-mounted, spanning nearly 36,000 square feet. The system is built with 1,700 ReneSola 305-watt solar panels, powering the new facility with clean, renewable energy, while reducing the load on the local utility grid.
The building, known by many as part of the Marin Commons, had its public debut on May 10. It will allow emergency response services to remain operational in the event of a major earthquake. "I am looking forward to celebrating the opening of our state of the art seismic-certified public safety building," Supervisor Susan Adams said, saying she was "particularly happy" with the building's solar system.
In keeping with the County of Marin Board of Supervisor's goal of sustainability, the Marin Emergency Operations Facility Project is on track for Gold Leadership in Energy and Environmental Design (LEED) certification. The 518.5 kW solar array fulfills the Countywide General Plan goal of 1 Megawatt of PV panels on county facilities ahead of the 2015 self-imposed deadline.
The system's solar electric panels are expected to generate approximately 764,400 kilowatt hours of energy annually, allowing the County to generate enough electricity each day to power 119 average homes. It will spare the air nearly 220 tons of harmful greenhouse gases annually. Over the next 30 years, the air pollution saved will be equivalent to eliminating almost 12.6 million miles of driving.
About Marin Emergency Operations Facility
The county purchased the building at 1600 Los Gamos Road, San Rafael, for $28 million in 2011 and spent about $50 million for seismic, equipment and technological upgrades as well as interior renovations. After the Sheriff-Coroner personnel get settled at the Emergency Operations Facility, the County plans to bring in employees from other departments over the next several years. Extra spaces will be rented to generate funds.
SolarCraft is one of the most trusted and experienced solar energy contractors in California. Since 1984, this certified Green Business has been providing high quality solar electrical, solar pool heating and solar water heating services to homeowners and businesses, employing licensed and certified solar installers. With more than 5,000 satisfied customers and over 2.5 million square feet of solar collectors installed, SolarCraft is committed to Quality Design, Quality Materials and Customer Service.
www.solarcraft.com