Free Space Optics Wireless Bridges Achieve Long-Term Reliability, as Featured in New Case Study
A new Case Study discusses the 10 years of reliable Gigabit Ethernet transmission provided by a Free Space Optics wireless laser bridge.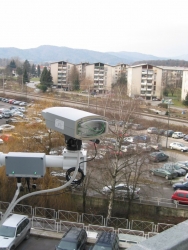 San Diego, CA, August 06, 2014 --(
PR.com
)-- LightPointe, the leading manufacturer of Gigabit capacity outdoor point-to-point data bridges, has published a Case Study featuring a Free Space Optics laser bridge which was deployed in 2005 by a leading IT integrator, SRC. The wireless bridge was installed by SRC to extend Local Area Network (LAN) connectivity to another building without having to incur the cost of trenching for fiber or paying for leased line service. SRC specializes in deployment of advanced information technologies for Cloud Computing, Government IT/Public Services, Business Infrastructure Solutions, Healthcare/Hospital IT, Banking, and the Education sector.
"Reliability and high network availability are LightPointe's highest priority and we are proud that many of our deployments going back even a dozen years ago are still providing dependable Gigabit capacity wireless connectivity," said Dr. Heinz Willebrand, CEO of LightPointe Communications. "SRC, based in Slovenia, is a perfect example of a company which has enjoyed years of point-to-point wireless bridge success with our advanced data transmission solutions, which include laser bridges and backhaul radios such as 60 GHz V-band and 70/80 GHz E-band wireless bridges. Such long-term successful deployments are the reason why LightPointe, an ISO-9001:2008 certified company, provides an industry-leading two year warranty on all of our products."
Since 1998, LightPointe has deployed over 16,000 systems with Enterprises, 4G/LTE Carriers, High Frequency Trading (HFT) networks, Government Agencies, Defense/Military Departments, and Security related organizations.
"Back in 2005 we needed a reliable point-to-point solution to connect two buildings, and we needed it quickly," said Srecko Bucek, project manager for SRC. "We chose LightPointe's FSO solution after carefully considering leased fiber lines and competing radio frequency bridges. The solution has performed admirably for ten years and counting, providing excellent ROI, high capacity, reliable LAN connectivity and most importantly optimum signal and data security only possible with a laser and private network. The wireless bridge is also license free and immune to RF interference and congestion issues, which is another reason we selected laser technology over radio bridges."
SRC is headquartered in Ljubljana Slovenia and has offices in Kranj Slovenia, Belgrade Serbia, Skopje Macedonia, and Zagreb Croatia. LightPointe also has representatives worldwide, including Germany, France, United Kingdom, Italy, Spain, Brazil, Argentina, Chile, Mexico, Canada, China, Singapore, India, and Japan.
Contact
LightPointe Communications, Inc.
Todd Easterling
+1 858-834-4083
www.lightpointe.com

Contact