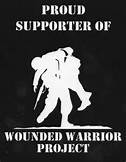 Billerica, MA, August 27, 2014 --(
PR.com
)-- Stepping Up for the Wounded Warriors Project
First Annual Club Inhale / Exhale Fitness Disco Night to support the Wounded Warrior Project. This special charity event will be held on October 10th 2014 from 6-9pm. 100% of all proceeds will be donated to the Wounded Warriors Project.
Club Inhale / Exhale will be providing a fun filled workout & party atmosphere that will start with 45 minutes of a fun filled Disco Fitness Workout. Music is being provided by Ernie Parent, EJ Entertainment Productions, and beverages & after workout treats being provided by Club Inhale/Exhale. Music will be playing all night with the sounds of disco.
Club Inhale/Exhale will be providing plenty of raffle giveaways with chances to win.
· 60 minute Fitness & Nutritional Assessment with either Coach Michael or Coach Kelly
(Value $85)
· $50 Gift Certificate for Consult with Wendi Giuliano with MaryKay
· Yoga Class Session with Coach Heather (Value $25)
· 50 Minute Yoga Therapy Session with Coach Heather (Value $105)
· 2 - $25.00 Reiki Sessions and a complimentary coaching session from ELPA Transformations Life Coaching
· And so much more! Donations are being added daily, want to donate from your business to support this cause please contact us directly at info@clubinhaleexhale.com
100% of all proceeds will be donated to the Wounded Warriors Project
The Wounded Warriors Project Mission:
To foster the most successful, well-adjusted generation of wounded service members in our nation's history.
Their Purpose:
· To raise awareness and enlist the public's aid for the needs of injured service members.
· To help injured service members aid and assist each other.
· To provide unique, direct programs and services to meet the needs of injured service members.
Michael & Kelly co-owners of Club Inhale/Exhale state "we believe in the Wounded Warriors Project and their mission, they are at the forefront of helping those service men and women that have given more than just sweat to protect our freedom and our rights as Americans."
Club Inhale / Exhale is a private community-based studio that helps busy people, get into the best shape of their lives with their holistic approach; working from the inside out with client allows complete openness for results to occur. Locations include Danvers, Billerica, & Woburn.
Their full menu of investments in Preventative Health for the community will provide a great opportunity to get the Billerica, Woburn, Winchester, Tewksbury, Andover, Chelmsford, Bedford and other surrounding communities to create its new Culture in Fitness, Health and Lifestyle changes.
The Team at Club Inhale / Exhale has this to say: "What makes us Unique? Simple we care, we are not a box gym where you go in and leave unsure of your workout. Did you do a good job? We take all of the guess work out with our Fitness Classes that are instructed by Qualified, Certified Trainers. We take the time to ensure everyone is making progress, with our Customized Nutritional Designs (Meal Plans) these take the guess work out of what to eat every day, we tailor it to your needs and likes. We also have Nutritional or Check in Consults on a weekly basis with our clients. This helps to keep our clients accountable."
Registration for this special Disco Fitness Night Charity Event is required and space is limited, cost for evening of Disco and fun $25 per person. All proceeds to benefit the Wounded Warriors Project.
To get started please register at www.ClubInhaleExhale.com
Select the Green Fitness Registry Button at the top left
Select Events & Choose your event and register
For more questions contact us at info@ClubInhaleExhale.com or call: 888 807 1102
Other events are scheduled for Billerica, Woburn, & Danvers check out the events tab for up to date info.
"When You Change Your Mind You CAN Change Your Body"
Your Fitness Designers,
Kelly LaCasse & Michael LoColle
Managers; Co-Owners, Club Inhale / Exhale, LLC.
Additional Investments:
~Food Psychology Coaching ~ Nutritional Designs (Meal Plans) ~ Personal Training Fitness Design; Small Group and One-on-One ~ Custom Fitness Regimens: Basic Weight lifting to Bodybuilding ~
Club Inhale / Exhale provides information and education for each client to leave nothing to chance when it comes to their members' goals. They are a one stop shop for creating your new lifestyle. Locations include Danvers at the Danvers YMCA, Woburn at Gymnastics & more, & Billerica at 530 Boston Rd, unit 5 Club Inhale/Exhale