Scooter Vacations, Orlando Scooter Rental Company, Provides Veteran Air Force Staff Sergeant a Refurbished Scooter Provided by a Disney World Scooter Rental Customer
ScootOrlando.com, Scooter Vacations, an Orlando Scooter Rental company, refurbishes a scooter from one of their Disney World scooter rental customers to provide it to a local Veteran.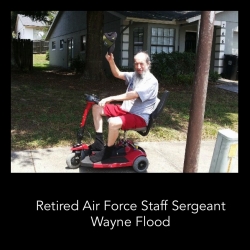 Orlando, FL, August 29, 2014 --(
PR.com
)-- ScootOrlando.com, Scooter Vacations, an
Orlando Scooter Rental
company received a scooter from a customer who had brought it with them from home to use for their Disney World vacation but was having issues.
"I thought I needed a new charger for my husbands scooter during my Disney World vacation. I called around and Scooter Vacations at ScootOrlando.com was the only company to come to my rescue and not only take the time to determine what charger type I would need but also bring it to me," said Mrs. Gabbi Fink Baron from Miami, Florida. "The technical assistance person came to me with the charger. Unfortunately after an overnight charge I learned it was not the charger as I had thought."
Brian Andrew General Manager for Scooter Vacations continues "Gabbi contacted Scooter Vacations a second time and said it was not the charger and asked if we could arrange to sell her a scooter so she could complete their vacation and get back home. She also asked us if we could take away the non-working scooter. We had no clue that just a couple of days later we would have a veteran who would be in need of a scooter."
Scooter Vacations was currently trying to repair a scooter for Retired Air Force Veteran Staff Sergeant Wayne Flood. His scooter was in very bad shape and un-repairable and he was not eligible for a replacement for another couple of years.
"I had no idea what I was going to do and how I was going to get around. I had sent my scooter to Scooter Vacations for repair and they told me it would cost more to repair it than to purchase a new one. This was really going to affect my quality of life," Mr. Flood said. "Next thing I know they called and told me they have a scooter for me, no charge! I couldn't believe it. They even delivered it to me."
Scooter Vacations and Mr. Flood would like to extend their sincere thanks to Mrs. Baron for helping to make this happen and all the wonderful customers who rent a scooter in Orlando for their Disney World, Universal Orlando vacations or cruises from Port Canaveral. Customer rental business allows Scooter Vacations to give back by providing repair services to veterans and scooters for children's charities such as Kids Wish Network and Starlight Children's Foundation.
Scooter Vacations rents mobility scooters to vacationers visiting the Orlando area and major attractions such as Sea World, Universal Orlando and Walt Disney World and have six mobility scooter rental models, electronic convenience vehicles (ECVs) to choose from based on individual needs; three models that fit in a car trunk and three specifically outfitted for on-property use.
To rent a scooter in Orlando from Scooter Vacations go to www.ScootOrlando.com or call 407.362.7745 or toll free US at 1 855 WDW Scoot (1 855.939.7266).
Contact
Scooter Vacations
Jo Ellen Andrew, JA&K Marketing for Scooter Vacations
US and International: 407-705-3705
www.ScootOrlando.com
Toll Free US: 1 855-WDW Scoot (1 855 939-7266)
In the UK: 02079 932302

Contact