First Ever Bhutan International Festival in the Himalayas – Feb 14-23, 2015 Brings Together 10 Days of Arts, Music, Film, a Full and Half Marathon, TED Talks and More
First Ever International Festival in The Himalayan Kingdom of Bhutan – Feb 14-23, 2015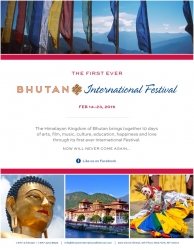 Thimphu, Bhutan, September 09, 2014 --(
PR.com
)-- The first ever annual festival in the Himalayan Kingdom of Bhutan brings together 10 days of arts, film, music, a TEDx and TEDx Youth event, a full and half marathon, the 35th birthday of the King of Bhutan, Bhutanese New Years and love and happiness will all take place within a 10-day period February 14-23, 2015.
The beautiful and remote Kingdom of Bhutan, where "Happiness Is A Place," hosts the first ever Bhutan International Festival, February 14th-23rd 2015.
"This is going to be a great event. This time of year has the best weather in Bhutan and lowest costs to travel there," said Festival Director, James H. Fitzgerald. "We're also very excited about the new appointment of our Festival Coordinator, Ms. Tashi Ongmo, stationed locally in Thimphu, Bhutan. Her experience with global organizations will help us make this a great first time event," added Fitzgerald.
In addition to festivals celebrating the arts, music and film, there will be an annual TEDx event, focusing on topics important to Bhutan and the world, and for the first time, a TEDx Youth event designed to engage young people from abroad and within Bhutan.
The 35th birthday of the King of Bhutan, Bhutanese/Tibetan New Year Celebrations (Losar) and the second annual Bhutan International Marathon, which includes a full 26-mile marathon and a 13-mile half marathon, will all take place during the festival period. The festival calendar also coincides with Valentine's Week, which makes it an even more enticing destination for couples looking to experience the magic of Bhutan. To help make it easier for families to bring their children, the festival takes place during the winter break/recess period for most primary, secondary schools and colleges around the world.
Featuring some of the planet's best and least known talent, world class Bhutanese and international artists will create an intoxicating mix of art, music, film, dance, and theatre, at multiple indoor and outdoor venues across the ancient capital of Thimpu, for 10 continuous days of festivities.
For more information about the festival visit us at www.BhutanInternationalFestival.com
For further information contact: James H. Fitzgerald in New York at 1-877-4-Bhutan or 1-877-424-8826. Email: Info@BhutanInternationalFestival.com
or
Ms. Tashi Ongmo by email TashiOngmo@BhutanInternationalFestival.com or by telephone in Thimphu Bhutan at +975-17601806 (GMT+6 Hours)
Contact
Bhutan International Festival
James Fitzgerald
+1-212-751-6300
www.BhutanInternationalFestival.com

Contact
Multimedia
Details, calendar of events and travel info.