Power & Industry Gifting Cinematic Aerial Drones to Filmmakers Attending the 2015 Indie Lounge During the Sundance Film Festival
Power & Industry, the most Epic gifting and entertainment Lounge during the Sundance Film Festival, has announced the latest additions to their 2015 Indie Lounge line up including gifting partners, entertainment, and Aerial Drones.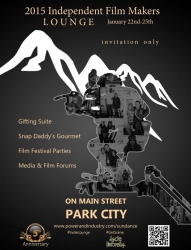 Park City, UT, September 24, 2014 --(
PR.com
)-- The Indie Lounge, the iconic gifting and entertainment Lounge during the Sundance Film Festival, announced Monday its latest collaboration for filmmakers attending their Lounge festival experience January 22nd-25th 2015 in Park City Utah.
Film Festivals are celebrated for their exquisite gifting suites and entertainment lounges, celebrities and filmmakers are found commenting, not about the greatest film they've seen, but rather the collection of "SWAG" from various lounges or social parties. "SWAG" has become synonymous with film festivals and award shows all over the globe. So how does the Indie Lounge raise the bar? In celebration of their 5th year at the Festival, the Indie Lounge is gifting aerial cinematography drones to attending filmmakers! "We hope to give independent filmmakers the opportunity to compete on a larger scale with more creative and aerial filming," Rob Joseph, Power & Industry's Director of Special Operations said. "These Tablet controlled drones have revolutionized the industry and helped numerous indie filmmakers up their production value. What better place than the Indie Lounge to give them away."
In Monday's Press Conference, the Indie Lounge also announced other attractions including Gifting Partners Olympia Luggage, Stetson Winery, Author Debra Beryle, and The Beer Soap Company. Media outlets ON Entertainment and Lifestyle Magazine 90265. Live performances by American Idol's Kalli Therinae and country music star Nathan Osmond round off the latest addition to the most Epic Lounge during the Sundance Film Festival.
Save the Date Invitations for the Indie Lounge begin October 4th, 2014. #getscene
For more information please visit www.powerandindustry.com/sundance
Contact
Thompson Sullivan & Locke
Danny Thompson
818-665-6188
www.powerandindustry.com

Contact