Unbound Medicine Launches Major Upgrade to uPub™ Publishing Platform - Powerful, Cost-Effective Content Management and Online Authoring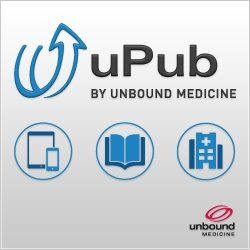 Charlottesville, VA, October 02, 2014 --(
PR.com
)-- Unbound Medicine, a leader in knowledge management solutions for health care, announces a major upgrade to uPub™, the digital content management and authoring module of the Unbound™ Platform. With this software release, Unbound Medicine adds a host of new features and tools to its online publishing technology, improving the experience of authors, editors, project managers, and organizations.
Grounded in Unbound Medicine's expertise in medical information and technology, uPub is a proven publishing system that supports successful projects of all sizes and levels of complexity. "We selected uPub for development of our comprehensive print and online Textbook based on our earlier success creating and regularly updating other digital resources with it," said Maureen DeRosa, director, Department of Marketing and Publications, American Academy of Pediatrics.
uPub is easy for authors and editors to use without special training. "uPub is a new and refreshing means of writing and editing. It is clearly the wave of the future in publishing," said J. Larry Jameson, MD, PhD, dean of the Perelman School of Medicine, University of Pennsylvania. Behind the scenes, a suite of powerful tools allows project managers to control and readily adjust everything from participant communications to content structure and workflow.
In the institutional setting, uPub is used to capture local expertise in the form of curricula, course guides, handbooks, and guidelines then mobilize it via mobile apps and the web. To support evidence-based education, uPub-powered content is seamlessly integrated with in-depth bibliographic references and the primary journal literature.
An institutional uPub project was launched recently at the University of Massachusetts Medical School Department of Family Medicine. Program director Stacy Potts, MD explained, "For many years new interns have been presented with a paper booklet of essential information about required rotations, patient care, and the local environment. Now with uPub these helpful guidelines can be continually updated and carried in a pocket for quick consultation anywhere."
"The promise of digital publishing has been elusive, hampered by complex start-up procedures, arduous training, and inflexible systems that are costly to alter," said Bill Detmer, MD, president of Unbound Medicine. "uPub is a practical and affordable system that really works both for sharing knowledge within institutions and expanding business opportunities for publishers."
To learn more visit
www.unboundmedicine.com/upub
About Unbound Medicine
Unbound Medicine is a next-generation health care knowledge company. Unbound produces award-winning mobile and Web products for partners and health care professionals using its end-to-end digital publishing platform and information architecture expertise. Additional information is available at
www.unboundmedicine.com
.
Contact
Unbound Medicine
Anne S. Patterson
610-627-9090 x228
www.unboundmedicine.com

Contact